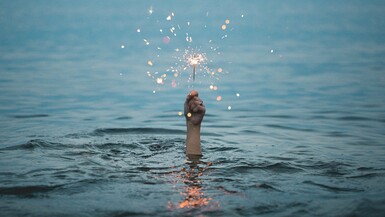 In the retail space, movements in data and tech can deliver immense value. They can also be immensely distracting. Leading companies capture that value and avoid the distraction by keeping a focus on their core offer (effectively solving the problems their customers need solved), while keeping a skeptically optimistic eye out for ways to solve those problems better with data and tech. It falls on analytics leaders who know the potential of data and tech, as well as the how their firms solve the problems their customer have, to lead this effort.
This thought hit me while at the NRF where I had the sinking feeling that many retailers have gone well past the shiny object syndrome and are chasing easy solutions in a tough retail climate. The floor of the Javits center was chock-a-block with technology to solve the last mile problem, build customer intelligence, and automate everything. And the rafters of the Javits center were hung with banners proclaiming that AI could solve it all, seamlessly.
As a retail nerd and data geek, I am fundamentally behind data and analytics being deployed to maximize the elements of your core offer, as leaders like Amazon do when it comes to convenience and choice, or as Zara does when it comes to assortment and mix. I even believe that experiments using data and tech should be deployed to challenge your core offer, finding new ways to solve customer problems, as well as new problems to solve. However, when you put a frenzied focus on chasing data and tech trends, you risk losing focus on your core offer.
Facial recognition, which was featured prominently at the NRF, offers a great example of the power of data and tech to help solve the right problem connected to your core offer, but it has to start with the right problem. One vendor had attached facial recognition to a QSR digital order board. I can only guess they did this because they could. And, theoretically I suppose it could make the order faster and more personalized, but at what cost? And there a lot of lower intrusion options, like order by app that have far better features, not to mention lower cost.
Still, when geared towards solving real customer problems at the core of a firm's offer, data rich tech like, AR, facial recognition, etc. can enable great solutions. Case in point is the use of AR by Ulta and Sephora to help customers chose makeup and skincare. These two firms compete in an incredibly tough landscape (they count Amazon, Nordstrom, Walgreens-Boots, and Birchbox, among others as competitors) and they know that whoever reliably solves the health and beauty challenges their customers face (pun intended), with ease, wins the day. And for them helping customers choose the right products, leads naturally to a smart use of data intense tech like AR. For these firms, tech and data serve to increase the focus on the core offer, not decrease that focus.
While retail is still a passion and a big part of my background, I'm lucky to meet analytics leaders across many industries in my role at the IIA. And while the industry settings are very different, the analytical challenges are often very similar. In future blogs, I will try to share some of the things that are making an impact in some industries that should be tried in others. "Comparative Analytics Approaches" if you will. Like Comparative Literature, but with a lot fewer references to Gilgamesh.
Drew Smith is the Executive Director for IIA's Analytics Leadership Consortium (ALC) and has been with IIA since June 2019. The ALC is a closed network of senior analytics executives from diverse industries who meet to share and discuss best practices, as well as discover and develop analytics innovation, all for the purpose of improving the business impact of analytics at their firms. With close to 20 years of experience, Drew has worked on both the business side of analytics, leveraging insights for business performance, and on the delivery side of analytics driving the use of enterprise analytics. Before joining IIA, he led the Data Analytics and Governance team at IKEA's global headquarters in Europe.
You can view more posts by Drew here.
Follow IIA on LinkedIn, Twitter and Facebook for more updates.