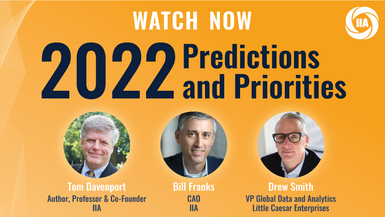 Curious about what lies ahead in 2022 for data and analytics leaders and teams and how you should consider shifting your priorities in response? In the 5th annual IIA 2022 Predictions and Priorities webinar, data analytics thought leaders and evangelists Bill Franks (CAO, IIA), Tom Davenport (Author, Professor & Co-Founder, IIA) and Drew Smith (VP, Global Data and Analytics, Little Caesar Enterprises) make seven predictions about the trends that will drive the industry in 2022:

Low-code/no-code adoption accelerates

ModelOps activity continues to surge

AI & analytics are further embedded in enterprise software

AI & analytics product management continues to spread

New talent strategies are required

A focus on decisions returns as crisis modes end

AI, analytics, & digital transformation converge
With insight, humor, and action-oriented recommendations, Bill, Tom and Drew not only make predictions for 2022 but they also identify the actionable and complementary priorities that data analytics practitioners should focus on to be prepared for the year ahead. Watch the 2022 Predictions and Priorities webinar now or request the related research brief from IIA. Full clients of IIA have direct access to the experts, thought leaders and practitioners that developed this content for more specific and actionable insights about how to implement these priorities.