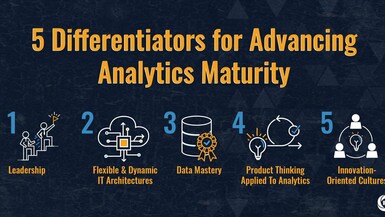 Increasingly sophisticated and complex analytics technologies, the movement to cloud and open source technologies, and digital native market disruption are making improvements in analytics maturity increasingly difficult.
Based on the 5 Stages of Analytics Maturity from Competing on Analytics, most traditional companies are still in the 2nd Stage of analytics maturity (Localized Analytics) and are struggling to advance into 3rd Stage (Analytical Aspirations) and 4th Stage (Analytical Companies) of analytics maturity.
Download this eBook now to get an overview on five areas where companies with advanced analytics maturity demonstrate unique capabilities.
For more, download the whitepaper "5 Differentiators to Advance Analytics Maturity".