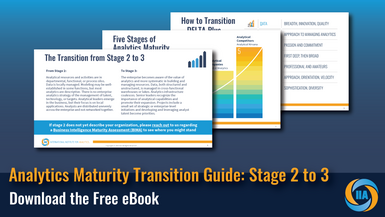 Embark on a transformative journey to take your analytical capabilities to the next level with our newest eBook – Analytics Maturity Transition: Stage 2 to Stage 3. Crafted to guide your enterprise through a seamless evolution, the eBook provides information on how to transition your analytics maturity based on 7 aspects from the time-tested DELTA Plus framework.

Dive into the heart of analytical success as we dissect the essential elements – Data, Enterprise, Leadership, Targets, Analysts, Technology, and Analytics Techniques. From creating a strategic vision to fostering a data-driven mindset across your organization, this guide equips you with tangible strategies and practical advice to advance your analytics maturity. Transitioning from localized analytics to Analytical Aspirations requires deliberate actions, and our guide ensures you're well-prepared for the journey ahead.

IIA RAN Clients already have access to the complete Analytics Maturity Transition Guide: Stage 2-3 Research Brief as well as the Transition Guides for Stages 1-2 and Stages 3-4 which all provide richer detail and guidance on how to advance all 7 DELTA Plus elements of your organization. Additionally, RAN clients have direct access to the experts that developed these frameworks.