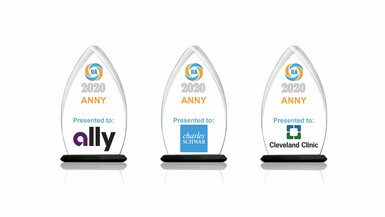 The year 2020 can't seem to end fast enough for many of us. Whether your industry is being hurt by, or benefiting from, the global pandemic, every firm has been forced to manage risk and uncertainty more than ever before. One central theme from IIA's 2020 Fall Symposium was the condensed acceleration of technology advancement, and the heightened reliance on data and advanced analytics to make decisions across organizations. The data and analytics teams have never been in higher demand than right now.
Now in its ninth year, IIA's ANNY award for excellence in analytics recognized three outstanding projects completed by world-class teams at Ally, Charles Schwab and Cleveland Clinic.
In prior years, each finalist team presented their projects live, on stage at Symposium. This year the teams presented their projects in a virtual setting. All three teams were awarded the coveted ANNY due to the trying circumstances. IIA's press release recognizing the winners can be found here.
Marcos Souza, Head of AI and Advanced Analytics at Ally said, "We're grateful to be honored by IIA with this year's ANNY award for advanced analytics. Doing it right for our customers is Ally's brand promise and our Data to Intelligence project supports that customer-first mindset." Scott Richardson, CIO, Enterprise Data and Analytics at Ally, added, "The intention behind the Data to Intelligence project was to help our customers' improve their financial well-being. We're happy that those efforts are recognized as industry leading, and we'll continue to seek innovative ways to put our customers first."
Tony Cyriac, Sr. Vice President and Head of Data, Analytics & Insight for Schwab said, "We are delighted to receive this honor, but the real win here is for our clients. We are proud of the focus and progress we are making to put data to work to improve our clients' experience and anticipate their needs. In order to serve our clients holistically across business lines and channels, we must analyze their journey in the same manner in which they live it: they experience Schwab as a single entity regardless of whether they are trading, opening a brokerage account or resetting a pin on their debit card. Our goal is to meet clients where they are and help them accomplish what they need to do as quickly and seamlessly as possible."
Chris Donovan Executive Director, Cleveland Clinic Enterprise Analytics, said, "We are delighted to receive this honor and very humbled to be in the company of such outstanding finalists. Building and leveraging analytics capabilities will continue to be instrumental in helping us address the ongoing challenges presented by COVID-19."