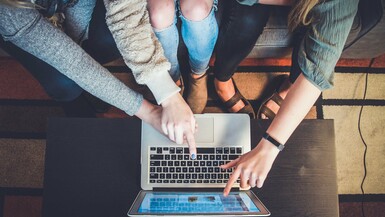 I've had the opportunity to work with some incredible organizations while at IIA and one of the activities I enjoy most is listening to different ideas and solutions to solve a similar challenge. One of the perennial hot topics I've heard our clients discuss is: how do you get the larger organization informed and excited about analytics projects and results; how do you build data literacy with an audience that is not exposed to data every day? A popular solution is to develop a Community of Practice (CoP) and share learnings and best practices. Here is one definition of a CoP to consider:
"A community of practice is not merely a club of friends or a network of connections between people. It has an identity defined by a shared domain of interest. Membership therefore implies a commitment to the domain, and therefore a shared competence that distinguishes members from other people… In pursuing their interest in their domain, members engage in joint activities and discussions, help each other, and share information… Members of a community of practice are practitioners. They develop a shared repertoire of resources: experiences, stories, tools, ways of addressing recurring problems—in short, a shared practice. This takes time and sustained interaction.[1]"
This overview provides recommendations on how to stand up a CoP within an organization, including guidelines on how to define a CoP charter and ideas for designing the CoP's objectives and activities. It's important to note that it will take some thoughtful planning and preparation to launch your group, even if you start small but have aspirations to scale over time.
To get started, you will need to create a charter that defines what your CoP is and how it will function. This initial planning will be a critical step, especially if you are seeking executive support as it will demonstrate commitment to a plan where progress and goals can be tracked and measured over time.
Getting Started… Create Your CoP Charter
What is your CoP?
Write a brief mission statement for the CoP – why does it exist and how does it benefit the broader organization?

Create an acronym or name that's relevant to your CoP; something catchy or easy to remember is helpful for brand/name recognition

Define SMART goals for the CoP
SMART = Specific, Measurable, Achievable, Relevant, Timebound

Identify expected deliverables and assets the CoP will create

Consider when/if the CoP will be retired and what that timeline entails

Select and recruit members

Define roles and responsibilities. Pictured is an example of how a CoP can be structured; creating a RACI chart may be helpful, too:
Establish a consistent meeting cadence with crisp agendas to keep discussions focused
Frequency of meetings will be dependent on what you want to accomplish and how many events/activities the CoP is able to manage. There may be some months where there will be an uptick in meetings due to planned activities.

Determine the communication mode(s) that will be used
Email: create an internal alias to easily communicate with members

Intranet/SharePoint site

Slack or other social business platforms

Shared folder for documents

Document and communicate the outcomes of all activities, deliverables, and actions for the CoP (note: this falls under the purview of the CoP Project Manager)
Timing of meeting, attendance, notes detailing learnings, outcomes, actions/next steps; communication should be done rapidly so as to not lose momentum

Actively promote the work the CoP is leading
Utilize some of the ideas below to increase knowledge sharing across the organization and beyond the CoP

CoP Engagement & Education Opportunities
There are many ways to engage and educate members of an organization especially with a topic that's popular like analytics. If your organization has a Learning & Development team or a leader in HR that is focused on training, be sure to reach out and collaborate on ideas and discuss how your CoP may be able to partner on promoting activities and potentially tying employee participation to corporate education hours and/or development goals.
As with any new project or initiative, start small, get a "win" and then debrief with the CoP. Discuss what worked, what didn't work, what may be done differently in the future, and if it's an activity that can scale across the organization. After there is some momentum, the CoP can start to discuss future plans whether that entails growing the CoP, launching more activities, and/or planning enterprise wide events.

Training
Data and Analytics 101-201
Host a two-part informal training series on data and analytics activities occurring in the organization. These trainings should be very high level. Don't get into the weeds with the attendees; rather have your audience walk away with some ideas and better insight as to how analytics is being leveraged in the organization and create a space for ongoing conversation:

101: "How We Do It" training

201: "Ask Us Anything" session: once the organization understands what the analytics team does (101), host a session so they can gain a deeper understanding of the work taking place and its broader impact
Deep Dive Seminar/Boot Camp
Educational and interactive day-long session: define the terminology (101 analytics), share use cases, conduct an interactive workshop, highlight the capabilities of the analytics team and some of the current projects in motion.

MOOC (Massive Open Online Courses)
Create a curated list of the top 10 data and analytics courses to take online and promote across the organization. For example, Coursera (2018's Most Popular Data Science Courses) or Khan Academy (Computing); schedule follow up discussions with employees that have completed coursework and discuss how learnings apply to current work and activities.

Open Discussion Forums
Lunch and Learn Tech Talks
Invite stakeholder groups for an open discussion that focuses on a recent project. The analytics team presents the project and/or concept and addresses questions, comments from the attendees; this is also a good time to ask the audience for feedback to see if there is another perspective that may be helpful. Additionally, external speakers can be invited to share case studies, learnings, and best practices.
Project Pitches
Individuals within the analytics team present recent projects to one another and include the KPIs, analytics, and overview of models in use along with a report on how the models are functioning. This activity is more tech focused, but highly informative and could be good practice for submitting projects for industry awards. Hackathons are another way to highlight current work and encourage feedback and participation in a competitive but fun environment.
Office Hours
Schedule consistent days/times where a member of the analytics team is available for questions on a project, general activities, new technology, etc.
Book Club
Lead monthly facilitated discussions on a pre-selected book focused on analytics, data, leadership, organizational structures, etc.

Reference Materials
Analytics Newsletter
Develop a recurring newsletter where the CoP curates media content specific to analytics and various use cases; distribute to a designated email alias on a consistent basis. The Newsletter can also include a brief description of current analytics work in progress to raise awareness.

Analytics Reference Materials
Publish a glossary of popular analytics terms and techniques with links to articles (or content from previous CoP work) that covers the topics in more detail. Additionally, provide a list of employees that are willing and available to answer questions on specific topics.

Internal Analytics Conferences
Additional IIA RAN resources include guidance on planning and leading an internal event (please note this content is only available for IIA RAN subscribers, if you'd like access to this content please visit here)
A Planning Guide for In-House Analytics Conferences (link)

Creating an Excellence in Analytics Award (link)

Disney's Data-Driven Decision Making Culture: The Disney Data and Analytics Conference (link)

External Opportunities
Local Analytics Events
Expand your network and gain new ideas and inspiration: look for local analytics events, happy hours, university gatherings, etc. to attend.
What's missing from this list? Have you found success implementing any of these activities in your organization? Please feel free to share your thoughts!



[1] Introduction to communities of practice. A brief overview of the concept and its uses. Etienne and Beverly Wenger-Trayner, 2015.
Lise Massey is the Program Manager for IIA's Analytics Leadership Consortium (ALC) and has been with IIA for six years. The ALC is a closed network of senior analytics executives from diverse industries who meet to share and discuss best practices, as well as discover and develop analytics innovation, all for the purpose of improving the business impact of analytics at their firms. Prior to IIA, Lise spent over 10 years designing, managing, and leading media analytics programs for a diverse portfolio of clients and has experience in many aspects of program and project management, account management, strategic and tactical planning, business development, and training. Lise is a graduate from the University of Oregon.
You can view more posts by Lise here.
Related Links
Read the "Creating an Analytics Community of Practice" Ebook