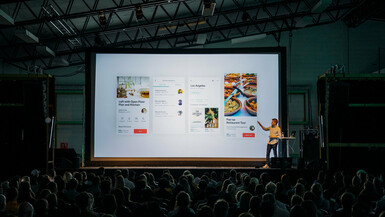 I spoke last fall at the Google Analytics Summit in Mountain View, and couldn't help being impressed with the pace of change at both Google and the marketing profession in general. As an aside, it struck me that Google today is much like AT&T in its prime: a near-monopoly (though unlike AT&T, not a regulated monopoly) in search and search advertising, strong product development (AT&T invented Unix and tons of telecom innovations, Google invented or acquired MapReduce, Android, StreetView, driverless cars, Glass, etc.), and a lot of really smart people (AT&T had Bell Labs, Google has them scattered all over). Both companies are quite analytical; almost every decision at Google is data-based, and AT&T pretty much invented database marketing.
There are, of course, a lot of differences too: Google has a much more fun culture (love those colorful bikes for getting around the campus, the great food, the playful atmosphere), and of course it's impossible to say whether the 15-year-old Google can continue to be successful (or somewhat successful, as I would grade AT&T lately) for the 140 years or so that AT&T has been around.
The other major difference is the pace of change for the two organizations and their customers. AT&T went through a massive set of changes around the turn of the 20th century, as it was building out the telephone network and users were growing at an exponential rate. In the 21st century, however, it seems to be drifting. Its only fast-growth business is AT&T Wireless, which was spun out into a separate company in 2001.
Google, however, is sitting on a volcano. Its markets and products are growing at a dizzying pace. Google Analytics, a tool for monitoring website traffic and digital marketing activity, is a great illustration of the changes taking place in the marketing world, and of Google's success at adapting to them.
Some figures for changes in the recent past that were described at the conference include:
2.7 billion Internet users—up from 1.5 billion 3 years ago ;

4 billion videos watched on YouTube every day, up from 2 billion three years ago;

Mobile media consumption up 500% in 3 years;

300% increase in video ads in the past year;

200% increase in "programmatic buying" (algorithm-based matching of ads with websites and users) of digital ads in the past year.
No numbers can easily describe it, but there is also incredible change in the marketing technology environment. CRM, web analytics, campaign management, social media management, and database marketing are all merging and recombining. All of these software domains are trying to master multi-channel, multi-screen consumer activity.
Google, for its part, is certainly keeping up with the pace. They paid me to speak, but no speaking fee could make me say something about them I don't believe. Over the past year the company has launched 70 sub-products or features within the Google Analytics family. Product managers have decided they might be moving too fast for customers, so they only announced 14 new capabilities at this session. Google Analytics has gone from being a free, but not terribly impressive, offering to being a strong competitor for Adobe and IBM in this market. I doubt that AT&T ever moved quite so quickly with a single product family.
Given the rapid changes in digital marketing, Google could do nothing less if it wants to stay on top of them. However, all of this rapid evolution is tough on customers and their marketing quants and technologists. Forget actually implementing anything—it's a full-time job just keeping up with what's available in the marketplace. I have a lot of respect for the web analytics professionals at the conference, although the change in their worlds is just beginning. There will be not only continued evolution in technology, but also in the organizational structures and capabilities required to pull off an integrated view of customers in this crazy era.
It's an exciting time to be a marketer, and I'm sure it's an exciting time to be at Google too. But even the management team of Google Analytics is surprised at the level of change. Paul Maret, the founder of Urchin—the company acquired by Google that became Google Analytics—and now its VP of Engineering, said that he can't believe the pace of change. So imagine how the rest of the world feels!