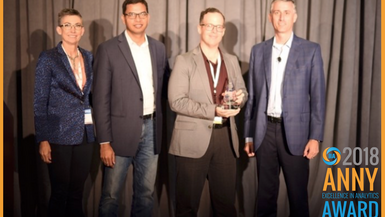 It's almost time to start submitting your ANNY application! Throughout the last eight years, IIA has been hosting the ANNY Excellence in Analytics Award. This coveted award has been given to organizations and departments who are making large strides within their organization with their analytics. IIA has this award to help celebrate those in the industry who are real change drivers.
What is the ANNY? The ANNY Award recognizes an organization's application of advanced analytics to drive measurable business results at the project or organizational level. Applicants will be evaluated on the following criteria:
Outcomes: Evidence of sustained, measurable success against planned targets and objectives

Ambition: Evidence of innovative and unique quantitative analytical techniques being applied

Scale: Level of coordinated internal resources to foster a meaningful, enterprise-wide analytics program

Skills: Evidence of a commitment to improving analytical skills of all user types across the enterprise

Insights: Evidence of higher quality insights and decision-making resulting in the analytical activity
Honeywell's Aerospace division won the ANNY Excellence in Analytics Award in 2018 for their Dynamic Value Pricing initiative. Cisco's marketing division won in 2017 for its Marketing Accountability analytics initiative. Previous years' winners include Caterpillar, Procter & Gamble, UnitedHealth Group, Intermountain Healthcare, Ford Motor Company, and UPMC Health Plan. What kind of projects have you been working on? Is this your year to win the ANNY?
Stay tuned to IIA's social channels for the official opening for ANNY Applications!