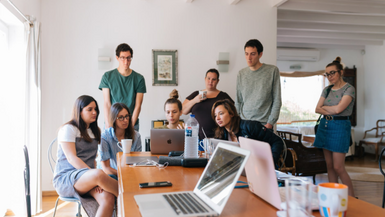 You've spent a lot of time and energy finding just the right person to fill your new data scientist role. The individual has settled into the position and is proving to be a successful hire for your organization. Looking forward, what can you do to retain the individual and help him or her stay engaged and successful?
First, recognize the risk. Studies show that the average job tenure for data scientists in the U.S. is 2.6 years, notably lower than overall median U.S. job tenure of 4.2 years. With the high demand for data scientists and companies aggressively recruiting top talent, it can be challenging to retain top performers in this field.

Next, understand the reasons data scientists seek new positions. Studies show that career development is a top motivator for data scientists, and therefore a major component of an organization's ability to retain analytics talent. Data scientists are continually looking for opportunities to advance their skills, increase their learning, provide value and progress in their careers.
The good news is that most turnover by data scientists is preventable. How? The key is in the type of work. Start by fulfilling the promises you made when hiring the employee within the first 90 days to 6 months of his or her employment. This includes having an onboarding plan, ensuring the data and software are prepared for analysis at the time the data scientist comes on board, and providing opportunities for the data scientist to connect with peers.
Once you have these foundational elements in place and you are providing a challenging position that meets the initial needs of the data scientist, here are my three recommendations for further engaging and retaining this critical talent for your organization.
Know What You Want
As the leader, data scientists expect you to know where analytics is heading in the organization. They expect you to carry the vision for the team. For example, what areas will analytics grow? How does your team fit in with other analytics teams? How can the data scientist provide the most value to the business units you support? How will your team increase the adoption rate of your models?In addition to developing your business plan, it's equally important to develop your specific talent strategy. For example, what skills and knowledge do you value and need in your employees? I work with my clients to break this down into 4 key areas:
Within each of the four areas, identify a range of positions, from beginner to advanced levels, to illustrate to employees where they can grow their personal skill sets within your organization. Matching their capabilities with your organization's job descriptions will create a strong foundation for a technical ladder or managerial opportunities.
Show How They Fit In
The best way to show a data scientist how he or she fits in with your vision for the company is to create a personalized development plan, or a career plan, for the individual.
Development Plan: The development plan matches the employee's strengths and capabilities with the skills and knowledge your company values for each level of the position. It is important to share this information with the employee, have an honest conversation with the individual about his or her strengths and opportunities, and identify specific ways to further develop those areas.

Career Plan: It's also helpful to consider the future career path for the employee, either from a technical ladder or a managerial standpoint. Your ability to identify potential paths and assignments with the employee, without offering guarantees, can help your employee envision a long career with your organization.
Support Lifelong Learning
Data scientists love to learn, and it's important to create an environment that encourages and supports their learning and innovation. Some of the best methods I've seen include:
Creating a "Community of Practice" inside the company

Hosting annual conferences to encourage meeting and collaboration

Hiring a coach to help data scientists with non-technical aspects of the job

Encouraging and funding continuing education for each team member

Facilitating partnerships with local universities to advance innovation efforts
Most learning opportunities for data scientists will likely lean toward the technical elements of their positions. However, it's important to encourage data scientists to also develop people skills, which are crucial to enhancing technical learning. In addition, it is equally important for you, as a leader, to continue your own career development, both technical and interpersonal skills, to set an example of lifelong learning for all members of your team.
Once you hire a data scientist, remember that retention is key, and also a significant challenge in today's marketplace. It's critically important to understand the needs of your data scientist – for career development opportunities, for challenging and rewarding work, to understand and value his or her role with the company, and to have the freedom to learn on the job. Your attention to these specific needs will help you retain the talent you worked so hard to recruit.