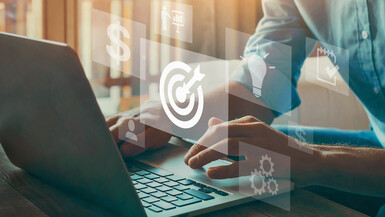 Read below for a roundup of interesting sites, resources, and articles from around the web, curated and contextualized by unbiased analytics experts at IIA. Highlights include articles about how to get your machine learning models out of the production stage, advanced data visualization techniques, insights from Drew Smith on how to improve data product creation, and a reflection on the ever-popular "Data Scientist: The Sexiest Job of the 21st Century " article. There is also an entertaining article on how advanced analytics were used to analyze whether 7-foot basketball players were making a comeback in the NBA. Follow us on Twitter and LinkedIn to receive daily updates on IIA content and curated content as it becomes available.
"Article of the Week" from IIA's Normal Distribution
Each week, IIA's Normal Distribution email (sent to anyone that has filled out a form on our website or subscribed here) features timely and relevant third-party articles. Here are the articles highlighted in the "Article of the Week" from the July Normal Distribution emails.
3 Challenges for ML Models in Production (Towards Data Science)
If you're struggling to get your #machinelearning models out of the production stage, this article covering how to overcome three universal challenges of ML model production might help you navigate the complex process.

The article covers how to deal with:

The right balance of human intervention
Data changes and concept drift
Poor communication with stakeholders
Five Advanced Data Visualizations All Data Scientists Should Know (Towards Data Science)
Data is only as valuable as the decisions it enables. If you're a data scientist who's not actively improving your data visualization skill along with your technical skills, you could be bottlenecking yourself.

This article is a great resource to develop some new data visualization techniques. It explains how to build and when to use the following figures:

Cohort Chart
Correlation Matrix
Distplot
Waterfall Chart
Funnel Chart
Provoking Consumer-First Analytical Thinking with Drew Smith (Jesse Anderson)
Our good friend and former VP of Analytics Leadership, Drew Smith, MBA, recently hopped on Jesse Anderson's Data Dream Team podcast to share insights and lessons from his career in data. Drew spoke on his process for creating data products, where organizations go wrong when looking to improve their analytics capabilities, and lessons he learned from his time at IIA.

You can listen to the full interview here.

For even more of Drew's insights, you can check out our most recent podcast with him.
Is Data Scientist Still the Sexiest Job of the 21st Century? (Harvard Business Review)
Ten years ago, Tom Davenport and DJ Patil posited that "Data Scientist" was the "sexiest job title of the 21st century". Does the claim still hold true a decade later? "The job has grown in popularity and is generally well-paid, and the field is projected to experience more growth than almost any other by 2029. But the job has changed, in both large and small ways. It's become better institutionalized, the scope of the job has been redefined, the technology it relies on has made huge strides, and the importance of non-technical expertise, such as ethics and change management, has grown."

In this article, Davenport and Patil revisit their massively popular article from 2012 and note what changes organizations need to make to stay current on data science best practices.
​​Featured Articles on Analytics Strategy
Snowflake vs. Databricks (eWeek)
With the sheer volume of data to be mined, the decision on what data platform to choose has become crucial to the competitive advantage one can create through analytics. This article navigates that decision process and helps you choose which platform will be best for you.
Identifying Unmet Needs in a Digital Age (Harvard Business Review)
One way to create a significant competitive advantage is to identify an unmet need and fulfill it. But doing this is obviously difficult and many don't even know where to start, so Harvard Business Review created this four-part framework to help innovators diversify how and where they look.

The framework contains two strategies on how to: 1) improve and 2) challenge your vision. "Within each, you can adopt a narrow focus or take a wider view. You can zoom in on individual mainstream users and their everyday experiences (what the authors call a microscope strategy) or pull back to discover patterns in their aggregate behavior (a panorama strategy). Likewise, you can take a look at users outside your core (a telescope strategy) or seek a broader view of the patterns they exhibit as a group (a kaleidoscope strategy). For each of the framework's four parts, the authors describe how digital technologies can augment more traditional ways of looking. Used together, the approaches they present will enable entrepreneurs to look further afield and on a larger scale than ever before."

Featured Articles on Analytics Leadership and Talent
Data Science Salary Breakdown 2022 (Geek Culture)
If you're curious about the current salaries for data scientists, this article is a great resource. It covers the averages across several recruiting and salary aggregation companies, different locations in the US, as well as seniority and specific job titles.
Want to be Valued as a Data Scientist? Ask the Right Questions (Towards Data Science)
"Data scientists aren't trained to create business value. They're trained to fit models to data. Employers don't retrain them, because, being a new profession, employers don't always know what value data scientists could produce — if only they'd ask."

This article explores how asking yourself the right questions can add to the business value of your data science projects. If you've ever heard of Simon Sinek's golden circle, the same concept can be applied to data science.
Creating a Data Literate Culture in Your Organization (InformationWeek)
"Everyone in the organization needs to understand how to access data, keep it secure and think critically about its potential use cases and applications." This article explains exactly what data literacy is, why it's useful, and the role of data governance.
Finding the Right Work-Play Balance in Data Science (Keith McNulty)
"Having led a data science team for a few years now I can say with some certainty that building a high-quality, capable and forward looking team requires some time to be put aside for activities that do not have a clear business use case attached to them." The author of this article argues that a healthy work-life balance for a data scientist should involve work time set aside for more creative, technical projects.

What Makes Data Scientists Resign? (Towards Data Science)
The author of this article distilled their thousands of spontaneous coffee chats, formal meeting room discussions, and candid cab ride debates centered around the topic of why data scientists quit their jobs— into THREE main factors which can cause even motivated data science professionals to fall out of love of their current organizations.

The three factors covered are:

The Work

The People

The Rewards
Featured Articles on Analytics Uses and Case Studies
Digital Transformation Is Changing Supply Chain Relationships (Harvard Business Review)
This Harvard Business Review article covers how newfound efficiencies from supply chain AI, such as utilizing shared warehouse and shipping spaces with other organizations, have created the need for some competing companies to form novel collaborative relationships.
Meet the Startups Using AI to Help Doctors Fight Burnout (Fast Company)
The COVID-19 pandemic was a catalyst for healthcare worker burnout, and there's an expected shortage of 134,000 physicians by 2034. With this in mind, AI developers have decided to develop technology to help aid existing physicians in the hopes that it will ease burnout and improve productivity.
Featured Articles on AI
By Exploring Virtual Worlds, AI Learns in New Ways (Quantum Magazine)
Training AI to learn like a human can has always been the goal for AI developers. Recently, researchers have placed AI models in VR and had them successfully learn complex, human-like tasks. Researchers noted that the ability to have AI models operate in VR grows the potential scalability for training AI models substantially.
Forget Robots Taking Jobs, These Researchers Compare AI to fire. Here's How We Need to Tend It (Fast Company)
"It is common to analogize AI to electricity: ubiquitous, beneficial, and safe. This is far too rosy. Today we encounter AI as our distant ancestors once encountered fire. If we manage this technology well, it will become a tremendous force for global good, lighting the way to transformative inventions. If we deploy it too quickly and without adequate foresight, AI will burn in ways we cannot control."

Two researchers from Georgetown who are currently on leave for government service argue that we are due for a reframing of how we view and are rolling out AI.
IBM CEO: Artificial intelligence is Nearing a Key Tipping Point (ZDNet)
IBM CEO Arvind Krishna told reporters this week that the global market is on the cusp of hitting a critical AI tipping point that will unlock major productivity gains. Recent IBM surveys show 35% of companies have adopted AI into their business and Krishna believes that number will reach 50% within the next year or so, and after that, "you kind of reach a tipping point... Then it tips over into 90% very quickly... and that is what unlocks all of this productivity."

The Fight Over Which Uses of AI Europe Should Outlaw (Wired)
In 2019 a group of EU border control agencies started a controversial trial run of an AI polygraph tool. Today, a ban on AI lie detectors at borders is one of the thousands of amendments to the AI Act being considered by EU officials. This article covers the history of EU restrictions on AI and what the future might hold for certain AI tools in the union.
Entertaining Articles Featuring Analytics
Which Women's Sports Benefited The Most From Title IX? (FiveThirtyEight)
In honor of the recent 30th anniversary of the passage of Title IX, this article made an analytical retrospective seeking to figure out which women's sports saw the most growth from the passage of the legislation.
NBA 7-Footers Are Having A Renaissance … Or Are They? (FiveThirtyEight)
After years of "small-ball", it seems like big men are making a comeback in the NBA - or are they? After a dive into some advanced analytics, FiveThirtyEight found that often players well under 7ft were outdoing 7-footers in rebounding and rim protection. So, are 7-footers actually going to have a renaissance?
About IIA
IIA is the industry's leading source of insights and advisory services for companies transitioning to data-driven decision-making and advanced analytics. IIA continuously seeks out insights, information, and experts to elevate our client's and our community's analytics expertise through two service lines. IIA's Research and Advisory Network (RAN) provides clients with access to the world's largest analytics-focused expert network; a resource designed to accelerate analytics teams' progress against their projects and initiatives. IIA's Analytics Leadership Consortium is a closed network of analytics executives from diverse industries who meet to share and discuss best practices, as well as discover and develop analytics innovation, all to improve the business impact of analytics at their firms. IIA's family of analytics assessments provide actionable, diagnostic insights for organizations looking to maximize their analytics performance.