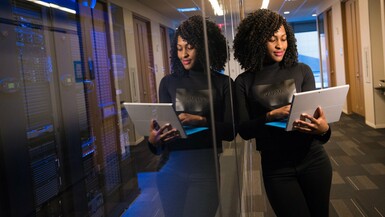 Here is a roundup of interesting sites, resources and articles from around the web, curated by IIA. March's edition includes insightful "how to" articles on driving data strategy, managing change, creating a learning culture and building better dashboards. There are also good overviews on emerging data science roles, scaling AI and building cloud-based analytics platforms. Follow us on Twitter (@iianalytics) and LinkedIn to receive daily updates on IIA content and curated content as it becomes available.
Featured Article from Analytics Leadership Consortium Newsletter
Each month, IIA's Analytics Leadership Consortium (ALC) publishes a newsletter featuring reviews of timely and relevant 3rd party articles. Here is one of the articles highlighted in a previous newsletter.
IIA's article summary:
Now more than ever, authentic leadership is needed to motivate and inspire colleagues to overcome myriad challenges induced by the pandemic as well as significant technological shifts. This article substantiates that the changes we are now experiencing are 3D (three-dimensional) changes and that this is a new normal we must become acquainted with:
"It's perpetual — occurring all the time in an ongoing way.
It's pervasive — unfolding in multiple areas of life at once.
It's exponential — accelerating at an increasingly rapid rate."
IIA Recommends:
In this article, Doug McMillon, CEO of Walmart shared five principles that have helped guide Walmart through the pandemic. What are your organization's principles? If you aren't aware of any new leading principles, work with your team to establish a set of principles that you can all support and get behind.
Researchers have found that a common theme for highly functioning teams is the notion of "psychological safety." As a leader, evaluate how you connect with your employees to support them and encourage them. Ensure that there are frequent touch points with your team to let them know they are valued and that you care about their physical, emotional, and financial health.
One way that Toby Cosgrove, former CEO of the Cleveland Clinic, heart surgeon, and White House advisor has found inspiration is by observing how other leaders have addressed certain issues. Cosgrove fastidiously takes notes on different behaviors and outcomes and actively models this learning process for his colleagues. What are some of the ways you are continuously learning and adapting?
Featured Articles on Analytics Strategy
Top-Down Leadership for Data: Seven Ways to Get Started (Sloan MIT Review)
Leaders can initiate successful data strategies by focusing on data quality, building organizational capabilities, and putting data to work in new ways.
Seven Legal Questions for Data Scientists (O'Reilly Media)
While analytics can deliver significant business value, it can also cause reputation, legal and regulatory challenges. This article poses seven legal question areas for any analytics solution including fairness, privacy, security, agency, negligence, transparency and 3rd party access.
Managing the Unintended Consequences of Your Innovations (Harvard Business Review)
New technologies like machine learning and artificial intelligence have unintended consequences that responsible organizations must manage.
The Maturation of Data Science (Datanami)
A review of how data science has overcome reproducibility challenges and is moving toward a better, more professional and predictable future.
How to Make Dashboards Using a Product Thinking Approach (Shopify Blog)
Good insights on building better dashboards using a product thinking approach. Includes 3 steps for success: 1.) understand your problem and your audience, 2.) build the dashboard with your users in mind 3.) follow up and iterate on your work.
Featured Articles on Analytics Talent
4 Ways to Create a Learning Culture on Your Team (Harvard Business Review)
Good advice for creating a learning culture including 1.) reward continuous learning, 2.) give meaningful and constructive feedback, 3.) lead by example and 4.) hire curious people.
Top 5 Data Science Job Roles for 2021 (Toward Data Science)
This is a good overview of emerging data science roles that reflect the changing nature of the discipline including data translator, data engineer, ML engineer, data architect and software engineer.
20 Core Data Science Concepts for Beginners (Toward AI)
This article provides good basic definitions for 20 core data science concepts.
Featured Articles on Data and Analytics Technology
Turning Data into Value with Advanced Analytics (O'Reilly Media)
Countless companies fail to implement data management and advanced analytics properly due to the changing data landscape, its complexity, the rapidly increasing amount of data, and the accompanying integration challenges. This article provides principles, observations, best practices, and patterns to overcome these challenges.
Architecting a Successful Modern Data Analytics Platform in the Cloud (ML-Guy / Medium)
This article provides a good overview of cloud-based data analytics platforms and reference architectures on AWS and Azure.
Getting there: Structured data, semantics, robotics, and the future of AI (ZDNet)
This interesting article provides insights on how structured data, Software 2.0, AI chips, and robotics will shape the future of AI.
Where Programming, Ops, AI, and the Cloud are Headed in 2021 (O'Reilly Media)
This article leverages an analysis of the data generated by the O'Reilly online learning platform to discern trends in the technology industry that leaders need to follow.
Featured Articles with Analytics Uses and Case Studies
Data Exhaust Turbocharges Mastercard (Forbes)
This article by Tom Davenport has great insights on Mastercard's approach to applying analytics to exhaust data.
AI-Powered Healthcare isn't Without Pitfalls, but its Potential is Vast (Fast Company)
Provisioning healthcare for the world's population continues to be challenging. This article explores how personal wearables and automated diagnostic technologies may finally lead to real benefits.
The Challenges of Presenting Pandemic Data (MIT Sloan Review)
Good insights on the challenges and pitfalls of creating complex pandemic data visualizations which are essential for decision-making in a pandemic.
The Future of Predictive Analytics in Healthcare (O'Reilly Media)
A good overview of how the use of predictive analytics and digital twins will impact clinical decision support, healthcare operations, medical devices and pharmaceutical manufacturing.
The Current State of Major League Soccer Analytics (Toward Data Science)
Sports teams are fascinating places to study analytics, partially because of the mystique of Moneyball but also because of the massive diversity in analytics that the analytics team must develop; from models to identify the next potential super star to models that tell vendors what prices to set for hot dogs.
Featured Articles on AI
An Executive Introduction to AI/ML/DL (ML-Guy / Medium)
An in-depth article covering essential Artificial Intelligence (AI), Machine Learning (ML), and Deep Learning (DL) concepts that every business executive and manager should know.
Scaling AI: The 4 Challenges You'll Face (VentureBeat)
This article provides an overview of the reasons why scaling AI is so challenging with insights across four key challenge areas: customization, data, talent, and trust.
New Algorithms Could Reduce Racial Disparities in Health Care (Wired)
An interesting article about applying AI algorithms to detect what doctors don't see, instead of mimicking their knowledge, to make healthcare more equitable.
Featured Resources and Blog Sites
This blog provides great insights on Shopify's approach to analytics and data science. Includes good examples of online retail.
O'Reilly Media's Medium page highlights some its best articles on information technology, data and AI.
Featured News and Information Sites
Fast Company 50 Most Innovative Companies
Many of the companies on Fast Company's 50 Most Innovative Companies leverage #analytics and #AI. Examples on this year's list include Microsoft, Healthy.io, Merck, Immuta, Strava and Tesla.
Tableau Visualization of the Day
This is a great website for examples of data and analytics visualizations built with Tableau.
This site features great visualizations and infographics based on real world facts, data and trends. Good source for background information and visuals on topics like politics, COVID19, global warming, and more.
About IIA
IIA is the industry's leading source of insights and advisory services for companies transitioning to data-driven decision-making and advanced analytics. IIA continuously seeks out insights, information and experts to elevate our client's and our community's analytics expertise through two service lines. IIA's Research and Advisory Network (RAN) provides clients with access to the world's largest analytics-focused expert network; a resource designed to accelerate analytics teams' progress against their projects and initiatives. IIA's Analytics Leadership Consortium is a closed network of analytics executives from diverse industries who meet to share and discuss best practices, as well as discover and develop analytics innovation, all for the purpose of improving the business impact of analytics at their firms.