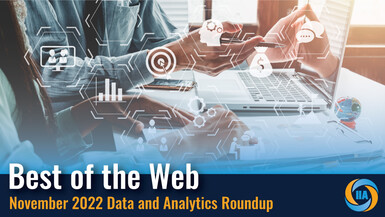 Read below for a roundup of interesting sites, resources, and articles from around the web, curated and contextualized by unbiased analytics experts at IIA. Highlights include articles covering the difference between data lakehouses and data warehouses, how to build a successful dashboard, how to get better AI adoption, and an article about how someone created a basic prediction model in Python for the 2023 World Cup results. There is also an entertaining article revisiting the data and analytics used in the movie "Moneyball". Follow us on Twitter and LinkedIn to receive daily updates on IIA content and curated content as it becomes available.
"Article of the Week" from IIA's Normal Distribution
Each week, IIA's Normal Distribution email (sent to anyone that has filled out a form on our website) features timely and relevant third-party articles. Here are the articles highlighted in the "Article of the Week" from the November Normal Distribution emails.
Data Lakehouse vs Data Warehouse (Medium)
"For the longest time, a Data Warehouse has been the gold standard for integrating data from disparate systems into a single database". However, a new technology - the Data Lakehouse - has emerged and is poised to overtake the throne for the premier data management architecture.

This article discusses what a Data Lakehouse is and 4 reasons you might want to choose a Lakehouse over a Warehouse:

Streamlined/Faster Data Loads

Single Source of Truth

Open Source

Low Cost
How to Build a Successful Dashboard (Towards Data Science)
This insightful article, "How to Build a Successful Dashboard", is written by "someone who built a few unsuccessful ones". In it, the author takes their lived experiences of creating dashboards that went unused and underutilized and creates a checklist of things to walk through prior to creating a dashboard to ensure that it will be a productive and successful endeavor.
Want To Get Your Team To Adopt AI? Follow These 8 Critical Steps For Success (Forbes)
Business friction with AI adoption is unfortunately high, but there are proven ways you can tackle the problem.

This article presents a case study of friction between a marketing team at a major telecom company and an #AI customer retention #algorithm that delivered 66% higher retention than traditional approaches. After presenting the case, the author walks through 4 changes needed to improve the adoption of AI:

Shifting your mindset
Shifting your toolset
Shifting your skillset
Shifting your processes
Predicting The FIFA World Cup 2022 With a Simple Model using Python (Towards Data Science)
The 2022 World Cup kicked off this past weekend with Brazil and Argentina as favorites to take home the hardware. This Towards Data Science article breaks down how they created a prediction model in Python for the tournament. Check it out and see how your favorite team is predicted to finish (not recommended for USA fans)
Featured Articles on Analytics Strategy
Realities of Being A Data Engineer — Migrations (SeattleDataGuy)
Migrations are inevitable. They are a harsh reality, and it goes far beyond just migrating from one data warehouse to another.

This article details the many types of migrations when you should and shouldn't undergo one, and some tips for how to make it through the often painful experience.

Data Science Succeeds When It Solves These Two Problems (Genevieve Hayes)
Data science projects that deliver business value solve two interrelated problems: a business problem and a data problem. Business problems are most likely what you think of first: finding new customers, decreasing labor costs for a certain task, etc. The data problems include things like: Identifying and interpreting patterns and trends present in a data set.

The author of this article claims that data scientists are often too concerned with solving the data problem, which leads to inaccuracies in solving the business problem. The author explores the following topics: how team silos create knowledge gaps, shiny new toy syndrome in data science, and how to bridge the knowledge gaps between leadership and data teams.

Featured Articles on Analytics Leadership and Talent
How Are Companies Taking Advantage Of Their Data Without Increasing Their Data Teams Size (SeattleDataGuy)
This article explores the modern data stack (MDS) - "a new approach to data integration capable of saving your engineers time while allowing both engineers and analysts to focus on high-value pursuits."

The author covers:

What the Modern Data Stack is
The benefits of its usage
Its scalable framework
How it reduces overhead
Examples of MDS tools
What to Do When Business and Data Teams Are Disconnected (Geek Culture)
Disconnects between business leaders and data teams are frequent, but the reasons why they occur and how to prevent them aren't clear. This article discusses the multiple ways disconnects can happen and provides various ways you can ameliorate them.
Featured Articles on AI
7 AI Startups Aim to Give Retailers a Happy Holiday Season (Venture Beat)
Retailers who have been eyeing AI implementation have the extra push of a labor crunch to incorporate the tools ahead of the holiday season. This list showcases 7 unique AI startups aiding retailers.

Trust in AI is Priceless (KDnuggets)
Co-founder and CTO of the IDE platform Kili Technology writes this article on why organizations need to keep faith in their AI projects even if they are seeing a high level of failure.

The author makes the case for hyper focusing on data quality instead of tuning hyperparameters when faced with AI failure. The article goes on to explain ways in which you might be going wrong with your data when working with AI.

10 AI Startups to Watch in 2022 (Open Data Science)
An MLOps company helping to unleash data science at scale, an ML company making ML dev more efficient through "algorithmic recipes" - Open Data Science put together this interesting list of 10 AI startups to keep an eye on for the rest of the year.

What Machines Can't Do (Yet) in Real Work Settings (MIT Sloan Review)
When we look at the myriad uses for #AI currently, we see a broad range of applications that augment human work instead of completely automating it. Many experts, including the authors of this article Tom Davenport and Steven Miller, believe that this scenario is expected to continue.
Entertaining Analytics Articles
Moneyball 20 Years Later: A Progress Report On Data And Analytics In Professional Sports (Forbes)

Randy Bean writes this article revisiting the Athletics organization that pioneered the data-driven game that modern baseball is today. The article covers how far data and analytics have come in the world of sports and some of the techniques and models used today.