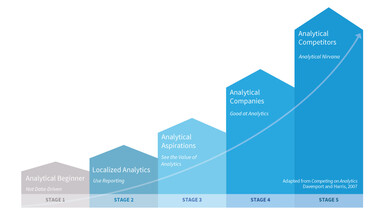 In a world where data's importance is no longer questioned, organizations must reflect on their analytics competency and create plans to improve it.
In a recent webinar, Srikanth Nayani, 7-Eleven's senior director of business analysis, discussed the challenge organizations face to remain data-driven during the COVID-19 pandemic. In times of uncertainty, emotions can run high. Panic threatens to overshadow objectivity, and knee-jerk reactions are poisonous to data-driven decision-making.
While organizations know making data-driven decisions is worthwhile, many don't understand where they're at in their analytics journey or how to take the next step.
After all, how does an organization know when they've reached analytics maturity? Should every business decision be based on analytic insights? What about 70% of decisions? And what kind of insights do organizations need for the best results, e.g., descriptive (what happened?), diagnostic (why did it happen?), predictive (what is likely to happen?), or prescriptive (what should we do?).
For most, analytics maturity is nebulous. A recent HBR article provides an excellent starting point to understand where you're at in your analytics maturity. In this blog, I further break down the basics of analytics maturity: what it is, why it matters, and how you can take the next step in your journey.
What Is Analytics Maturity?
Analytics maturity is the measure of an organization's analytics competency. It's a helpful benchmark for organizations to understand their usage of data, both historically and presently, and can help organizations shape their future plans for leveraging data. It can also help organizations quantify the ROI of analytics investments and optimize for future success.
To quantify analytics maturity, the International Institute of Analytics (IIA) has adopted the framework first proposed by Thomas Davenport in his seminal book Competing on Analytics. There are five stages of analytics maturity as illustrated below. On average, companies score a 2.2 — almost right in the middle. Coincidentally, according to a recent IDC survey, only half of all business decisions are based on analytics.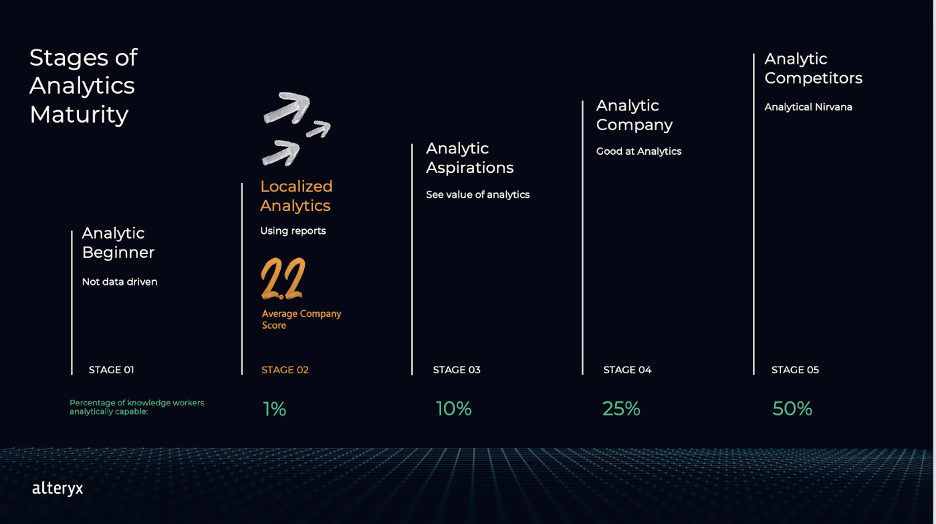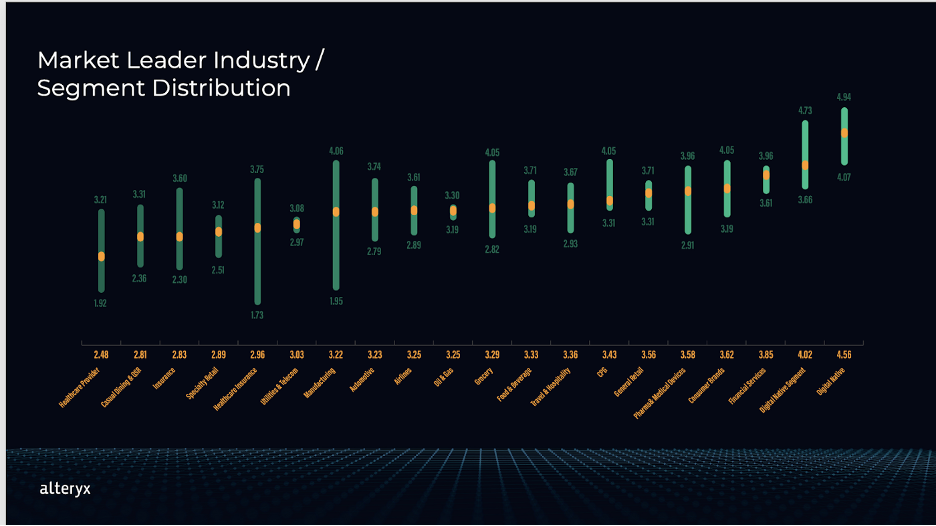 Why Analytics Maturity Matters
The previously mentioned global IDC study of 1,500 business leaders revealed that 73% of organizations plan to invest more in analytics than any other kind of software over the next 18 months. Organizations know data analytics is important. However, discrepancies arise in regard to what to invest in and how to become more analytically mature.
"What's really helpful [about the analytics maturity assessment] is it is a framework you can use for the business but also a framework to be applied at the departmental level, and it's also very good for managers in the business to articulate where they are and where they need to go relative to their peers."
— Brian Millrine, CIO & Strategy Director, Brookson Group
McKinsey reports that organizations that are very analytically mature experience 15% to 25% growth in earnings before interest, taxes, depreciation, and amortization (EBITDA). And that's on the enterprise level. Data analytics is simply an arena that organizations must immediately enter with a calculated plan.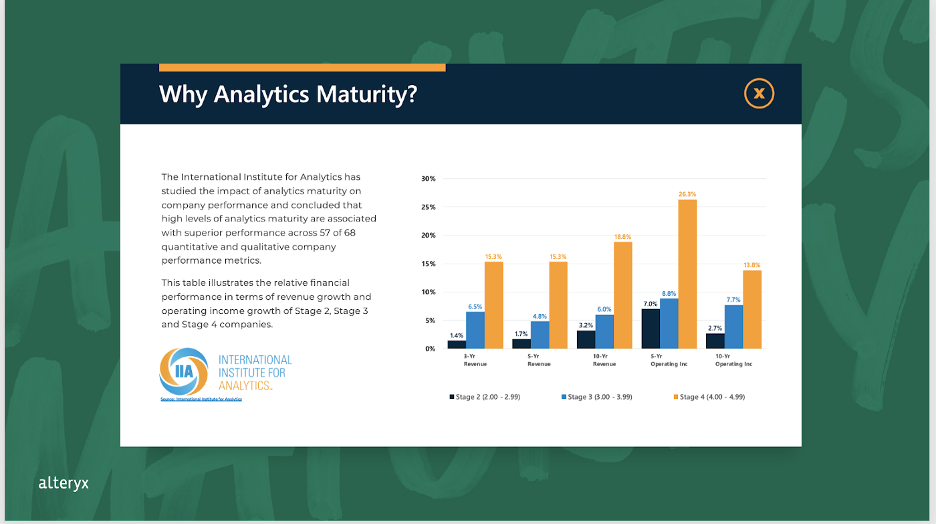 The Four Dimensions of Analytics Maturity
Analytics maturity is comprised of four distinct areas that I briefly cover below. Businesses more advanced in each of these four dimensions will see higher levels of ROI.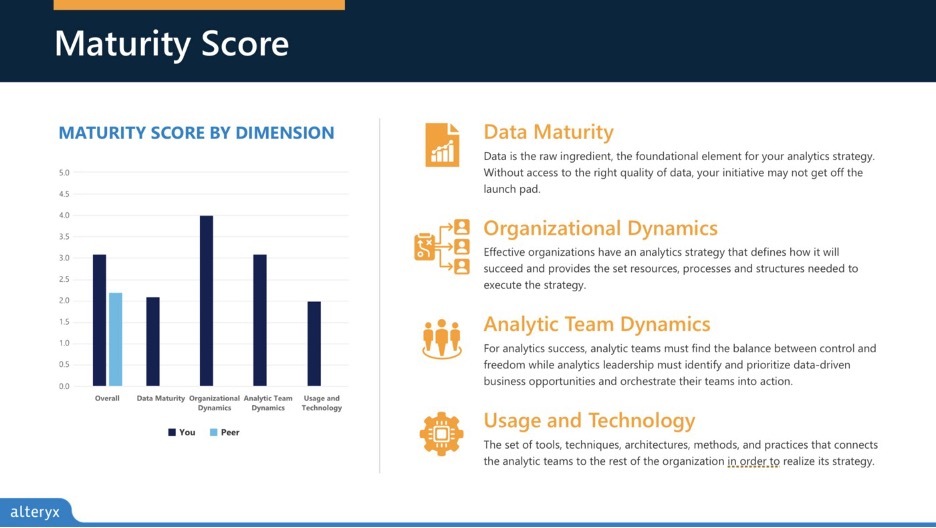 Data Maturity
Without access to the right quality of data, an analytics strategy won't get far. Data is the raw foundation for all analytics, the fuel for every report, dashboard, and machine learning model. An organization's data maturity will depend on where and how it stores its data, the quality of that data, and how accessible it is.
Organizational Dynamics
This encompasses strategy and culture. Effective organizations know where they're going and why. They have strategic investments, talent, and processes in place to support their data analytics plans.
Analytic Team Dynamics
Team dynamics can be internal and external. This covers how well analytic teams work with each other (think analysts and data scientists) and how well they work with key stakeholders across the organization.
Usage and Technology
This spans the set of tools, techniques, architectures, methods, and practices that connect the analytic teams to the rest of the organization in order for the analytic team to realize its strategy.
How to Improve Analytics Maturity
Becoming more analytically mature requires advancing in each of the four dimensions. I've provided actionable steps below.
Step One: Improve Data Quality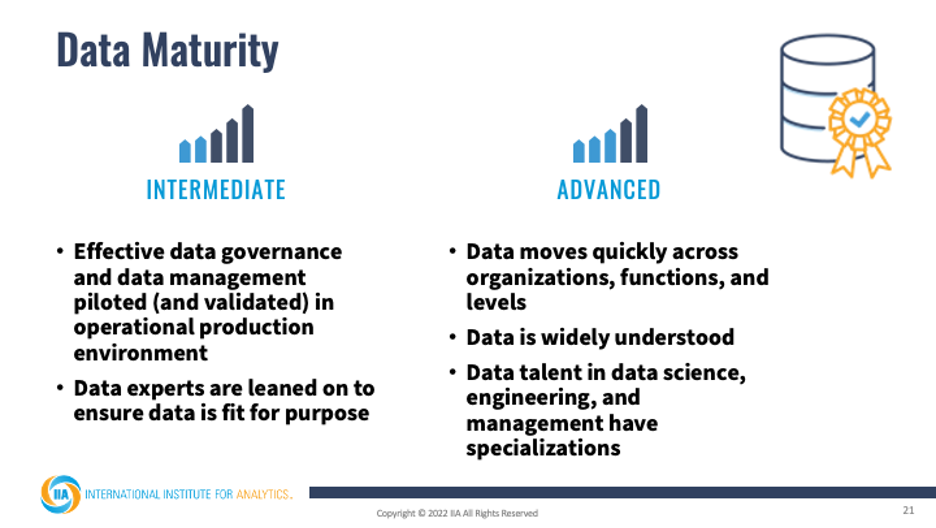 The first step toward data maturity is to house your organization's data in a centralized location, such as a data warehouse or data lake. At first, your organization will only use internal data, but you should seek scalable solutions that can incorporate external or unique data sources.
82% of organizations with high analytics ROI say it is very or extremely easy for data workers to access data.
The next step is automating reporting and analytic processes so there's a fast and easy way for stakeholders to access insights. Finally, you'll want to ensure that your analytics team has a wide range of skills and capabilities, including data science and engineering.
Step Two: Improve Organizational Dynamics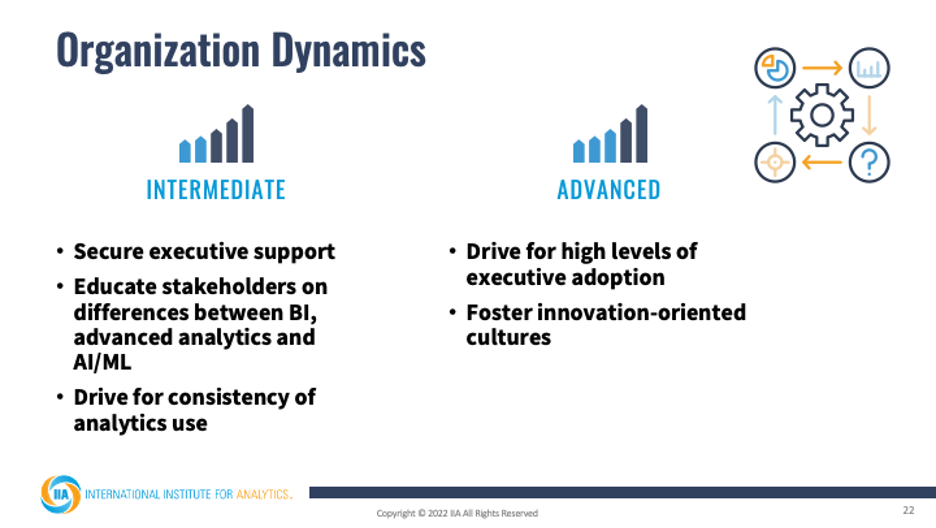 Leading organizations must create a top-down investment in analytics. This can get muddled when CDOs face the challenge of building a proper data function while appeasing executives eager for instant results. To help build momentum, initially focus on small-scale, high-value analytic initiatives that can impress leaders and help garner buy-in from the entire organization.
Once leadership sees the value in analytics, the C-Suite must make it clear that data is a core business pillar. Employees should be given access to the necessary dashboards to help drive data-driven decisions. IT should be present throughout the process to ensure proper data governance and security.
Step Three: Improve Analytic Team Dynamics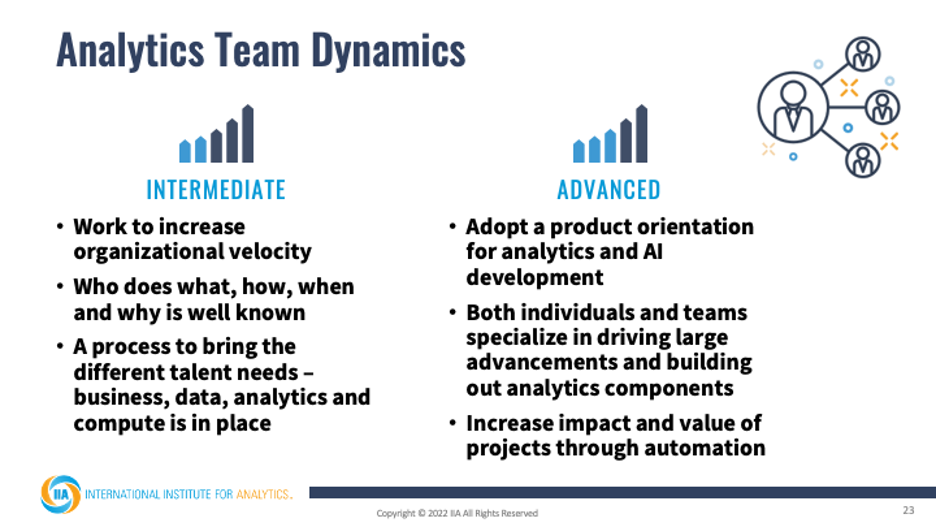 To improve your team dynamics, start by assembling teams to support your early analytic projects. These teams should include multiple business units, analytic leaders, and stakeholders. Remember that your stakeholders are your customers, as they're the ones who will be interacting with the product (dashboards) every day.
63% of organizations with high analytics ROI say that data and analytics workers collaborate well or extremely well.
As you target small-scale, high-value initiatives, seek out specific analytical skill sets within your organization. Offer learning opportunities, such as lunch and learns, for lean teams or skills gaps and search for solutions that scale analytical capabilities with individual advancement. Scalable platforms that provide advanced analytics, machine learning, AI, and more will make it easier to advance to higher levels of analytics maturity.
Step Four: Improve Usage and Technology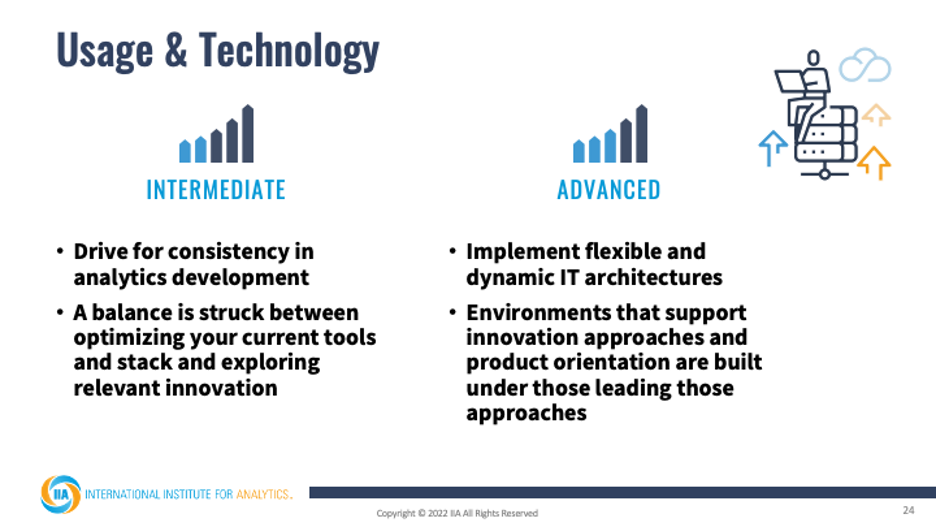 Having the right analytic solutions and IT infrastructure can make all the difference in your analytics maturity. To improve this dimension, begin making plans to scale and build your analytics infrastructure. You'll also want to explore cloud-based analytics and consider how well any platform would integrate with your tech stack.
If you haven't already started, explore and trial predictive and prescriptive analytics options, as well as machine learning with text mining, sentiment analysis, and modeling. Seek out solutions that work well in a centralized environment and will enable model development using explainable AI (XAI) best practices.
77% of organizations with high analytics ROI say that all five steps of the analytics process are very or extremely well integrated into a single platform.
Also, consider the usability and accessibility of your technology. Instead of spending millions on something like a data lake that only a handful of users will use, look for options that analysts and knowledge workers across the organization can use that are more cost-effective.
Step Five: Democratize Analytics
Perhaps the most important step in improving your organization's analytics maturity is upskilling knowledge workers across the organization — or democratizing analytics. This is the most effective way for enterprises to surpass sub-50% of data-driven decision-making.
68% of organizations with high analytics ROI say that at least a quarter of their knowledge workers are active users of analytics software.
The reality is small analytic teams can never hope to answer all the questions and demands of the entire organization. With the right tools and know-how, hundreds or thousands of knowledge workers could be working on smaller analytic projects that accelerate ROI while your data scientists take on the major, more complex projects.
Essentially, data democratization is a change management process. There are three steps that lead to best-in-class democratization — and they are the basics of nearly any change management journey:
You need to make people aware of what's possible and excited enough to want to invest in training themselves.
You need to provide the training and tools for people to go on the journey.
You need to support and sustain them once they're up and running.
Each of these strategies can leverage a myriad of tactics, including user groups, hackathons, demo days, reward and recognition programs, etc. Take a look at some sample tactics for each step in the graphic below, and pick a few to implement to start your analytics democratization process.

Take the Next Step in Your Journey
I've discussed key ways to become more analytically mature; however, the very first step in advancing your analytics maturity is understanding where you're at. Here's an interactive analytics maturity assessment that takes only five minutes to complete. It will score your company and assign one of five levels of maturity. The tool will then prescribe resources to help you progress in your analytics journey. For in-depth support and directed guidance, I'd recommend IIA's services.
Success won't happen overnight, but once you understand where you're at and commit to change, you can only improve. Altering your organization's ways of thinking and operating won't be easy, but it will be more than worth it.
Originally published on Medium