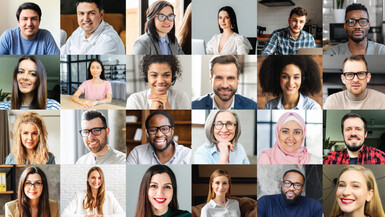 When data and analytics professionals change jobs, more than 50% see their base salary increase by 20% or more. This data point is a reminder of the demand for top analytics talent and, most importantly, that such talent cannot be taken for granted. Talent retention emerged as a vital theme in early 2022 at the ALC, and I have summarized key takeaways of recent discussions into four pillars: Compensation, Culture, Career, and Cause. These pillars will help you take an inventory of the strengths and weaknesses your organization brings to the table to attract talented data and analytics professionals and convince them to stay.


Use these four pillars as a guide to understand your organization and help spell out what makes this opportunity unique and how you might motivate someone to stay. Remember that you are working with human beings who have their own motivations and desires, so be descriptive and candid about what the position can offer and check in as the role continues.

Keep in mind that your company will have a unique blend of strengths. No organization is a market leader in more than one pillar, and this exercise will help you understand what makes you competitive to candidates and what will help you keep them in the long run.
1. Compensation
Compensation is the most significant metric that data and analytics professionals look for in a new position and often the most difficult to compete against. The Facebooks of the world will outbid you, especially for your most talented data scientists, and you shouldn't linger on this fact or turn a blind eye to the numbers coming from market leaders. Recognize how your salary bands compare to the market to know whether it will be a strategic strength for attracting top talent or something which you will need to compensate for in other areas. For retention, compensation should be equitable and competitive; however, it is not a substitute for the more human elements. To be effective, you need to understand what is important to the individual and pair compensation with other relevant factors that the company has to offer.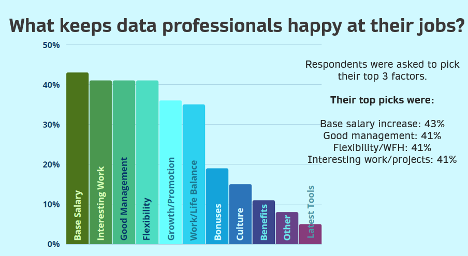 Elevator Notes: Compensation
Base salaries matter more to early-career professionals while incentives matter more to senior-level professionals.
Signing bonuses can be a means to avoid higher salaries, but they may then require broader retention bonuses to maintain equitable pay within teams.
Transparency around compensation promotes equity and helps reduce gender-based wage inequality.
2. Culture
How you choose to present and grow your culture is a key differentiator that helps define which candidates you will attract and whether your data and analytics professionals choose to stay. As remote work evolves, organizations are actively shaping their culture to build meaningful connections and practices between co-workers. Some organizations are even extending this to candidates by giving a personal call or gift while recruiting.
One way to start thinking about your own culture is to break it into how work gets done and how people interact.
In terms of how work gets done, look at the policies and prevailing mindsets that govern practices such as remote work, flexible schedules, or vacation. These categories are proxies for understanding the level of openness and flexibility about when and how work gets done in a way that is adapted to the individual employee.
To describe the interactive side of your culture, start with asking to what extent people feel valued, recognized, and connected at work. It may also be helpful to ask what policies, practices, and habits you have that support these strengths. In learning from the pandemic, many organizations are now taking steps to show that they value their employees' physical and mental health, wellbeing, and other aspects that were once thought to be personal matters beyond the concern of a company.
While there is no such thing as a perfect culture, knowing how to describe and shape yours can be a crucial element in attracting the right candidates and keeping them. Keep in mind that data and analytics professionals may have different cultural needs than other teams at your organization. For example, one contributor to the ALC highlighted how they have begun providing continuous learning opportunities for data and analytics professionals to support their team's culture of curiosity and continuous improvement.
Elevator Notes: Culture
Culture is a key reason why people stay or leave an organization and it cannot be replaced by compensation.
Flexibility is crucial for everyone but even more so for women.
Good management and leadership are particularly important, so make sure to promote the right people into these roles (i.e. not all star individual contributors make star managers) and offer leadership training.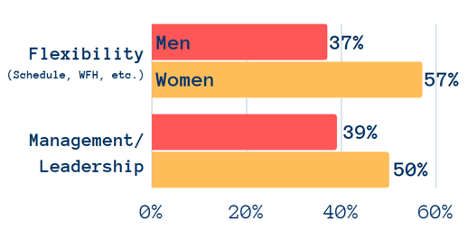 3. Career
Long-term career opportunities are a significant pillar, but to use it to your competitive advantage, it helps to distinguish between early-career and senior-level professionals because they often look for different aspects. In both cases, clear career paths with succession planning are a must; don't let your people feel like they are stagnating. Also, make sure that people can advance through both managerial and technical routes.

For early-career professionals, growth is a key priority if you want to keep them, second only to base salary if you want to hire them. Although early-career professionals tend not to stay as long as senior-level professionals, celebrate their growth path and stay connected as they leave. These early-career professionals who are leaving to pursue challenging and broader experiences may be interested in coming back later in their careers.

Senior-level professionals, on the other hand, care more about having interesting work and being able to make an impact. Having data and analytics as a company priority also matters to these professionals because they want their work to be taken seriously. As one recent ALC guest speaker put it: If someone is hitting their head against a wall for a year, they are going to leave.
Elevator Notes: Career
Create strong career paths for everyone.
Some people do not want to manage others, and those people need solid career paths that will not try to make them into managers.
Recognize that all career paths are unique and interests change over time; find ways to empower your employees without pigeonholing them.
4. Cause
A growing factor in what people look for in their work is the ability to advance something they personally care about. Non-profits, NGOs, and the public sector are market leaders in this category, but it is ripe for competition from those willing to dig deeper into their organization.

For example, if you are an airline company, your effect on the environment is probably seen as a slight barrier to recruiting. While this broad truth is unlikely to change, you can still compete on cause by outlining the impact of the work and the particular business unit, such as if you are working to reduce CO2 emissions by reducing unnecessary fuel consumption. The point is to dig below the surface and to showcase the positive effect someone could create through the position.

Elevator Notes: Cause
The secret to cause is authenticity.
Focus on actions taken and not on promises made.
Cause is an increasingly important pillar, especially for younger data and analytics professionals.
Conclusion
Compensation, Culture, Career, and Cause can help you take stock of what your company offers to attract and retain the data and analytics professionals who want to work with you. Your company, business unit, and position all offer a unique blend of strengths and weaknesses, and by understanding them you can stop fighting the war on talent and start cultivating what you already have.

Thank you to Burtch Works for permission to include their survey data on talent attraction and retention for data and analytics professionals. To learn more about Burtch Works, visit their website here. All images are property of Burtch Works.