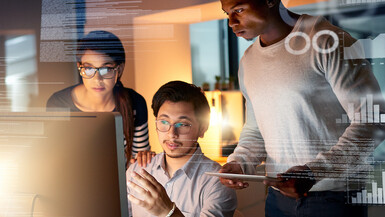 Read below for a roundup of interesting sites, resources, and articles from around the web, curated and contextualized by unbiased analytics experts at IIA. Highlights include articles about using AI to enhance the customer experience, applying design thinking to analytics, building a culture that is good at experimentation, and emerging data trends for which companies should prepare. There is also an entertaining set of articles exploring the use of analytics and AI in poker, video games, and the analysis of sports leagues and prediction of champions. Follow us on Twitter (@iianalytics) and LinkedIn to receive daily updates on IIA content and curated content as it becomes available.
"Article of the Week" from IIA's Normal Distribution
Each week, IIA's Normal Distribution email (sent to anyone that has filled out a form on our website or subscribe with here) features timely and relevant third-party articles. Here are the articles highlighted in the "Article of the Week" from the February Normal Distribution emails.
Ways to Smooth the Bumps on the Data-Driven Path (Information Week)
Becoming a data-driven enterprise requires easy, secure access to data. This article outlines six steps for making this process happen, including: 1.) changing the culture; 2.) engaging early with your data governance and data compliance teams; 3.) embracing cloud and cloud native architectures; 4.) transitioning on-premise data centers into private clouds; 5.) implementing "real" hybrid data models; and 6.) providing tool flexibility to your data scientists.
Can AI Teach Us How to Become More Emotionally Intelligent? (Harvard Business Review)
Emotional intelligence matters more to one's success as a manager than IQ or technical skill. This article advocates for the adoption of AI technologies that can help make teams more emotionally intelligent by making team members more self-aware and by improving communication techniques. It also provides a good overview of emerging solutions targeting sales and customer success.
Successfully Combining Design Thinking and Data Science (Toward Data Science)
This article outlines how and why Design Thinking can be valuable for your next data science project and provides a guide for implementing a Design Thinking workshop for data science.
How Managers Can Build a Culture of Experimentation (Harvard Business Review)
IIA has identified innovation-oriented cultures as one of five key differentiators for advancing analytics maturity. Testing and experimentation are important drivers of innovation, and this article details the conditions under which experiments should be conducted, the key considerations for testing in an ever-changing business environment, which data to test against, and the criteria against which one should make decisions.
For additional insights on the importance of innovation-oriented cultures download IIA's 5 Differentiators to Advance Analytics Maturity.
​​Featured Articles on Analytics Strategy
Companies Are Making Serious Money With AI (MIT Sloan Management Review)
As recently as 2019, most organizations (70%+) were reporting minimal or no value from their AI investments. A few years later, and things are changing. In this article, IIA Co-Founder Tom Davenport and Randy Bean explore data from several recent market studies indicating that a majority of organizations believe they are beginning to capture substantial returns and other benefits form their AI investments.
Human Diversity Will Save Your Job From the Robot Takeover (MIT Sloan Management Review)
Many roles are being reimagined and redefined by technology. This article advocates that companies trying to figure out how to integrate robotics into their workflow can leverage DEI practices in order to make human workers more relevant.
Data-Driven Isn't Dead (Toward Data Science)
Are people beginning to tire of the term "data-driven?" This article argues that suggested alternatives, such as data-literate, data-aware, or data-informed, are too limiting and don't acknowledge the role that advanced, prescriptive analytics play in making it possible to drive meaningfully decisions with data.
For additional insights on the building a data-driven culture, download IIA's Dimensions of a Data-Driven Culture eBook (or the full research brief for IIA clients).
Featured Articles on Analytics Leadership and Talent
Making the Most of Data Science Teams (Toward Data Science)
There are a variety of ways to organize and manage data science teams, but given the nature of their work they are often in cross-functional organizations. This article offers some good, practical advice for effectively managing cross-functional data science teams.
Data Science Skills for 2022: What's In-Demand for the Year Ahead? (Open Data Science)
This article provides an overview of the ten most in-demand data science skills for 2022, including: GBM algorithms, ModelOps, feature stores, synthetic data, statistics, and modern coding styles for reusability.
How Google is Killing the Data Scientist (Medium)
AutoML has made machine learning available to the masses. This article explores how AutoML enables all organizations, regardless of size, to harness machine learning to solve complex analytic and predictive problems while also discussing the impact on organization skills and staffing.
Featured Articles on Data and Analytics Technology
We've Only Scratched the Surface of the Full Potential for the Data Warehouse (Toward Data Science)
This interesting article explores how the enterprise data warehouse will transition from being thought of as a tool for business intelligence to being at the core of everything companies do. The author outlines five unique phases of evolution and five changes that must occur for the data warehouse to reach its full potential.
2021 MAD Landscape: The Top 10 Trends (Matt Turck / FirstMark)
IIA is a big fan of the Matt Turck / FirstMark MAD (Machine Learning, AI and Data) Landscape. This article summarizes the top 10 trends from the latest landscape including an explosive funding environment, the move to real-time data, hybrid data mesh architectures, the rise of AI generated content and the move from MLOps to ModelOps.
5 Data Trends in 2022 (Medium)
2021 saw an acceleration of buzz around the rise of the Modern Data Stack driven by an explosion of cloud-based data tools. This article explores five trends to watch as adoption of the Modern Data Stack continues, including: 1.) The rise of the Analytics Engineer; 2.) The data warehouse vs data lakehouse war intensifies; 3.) Real-time streaming pipelines and operational analytics continue to push through; 4.) Cloud marketplaces drive adoption; and 5.) Harmonization and consistency of terminology around the Modern Data Stack and data quality.
Featured Articles with Analytics Uses and Case Studies
Customer Experience in the Age of AI (Harvard Business Review)
Companies across all industries are focusing on personalization. A company's ability to capture, analyze, and utilize personalized customer data at scale and to apply AI to understand and shape the customer journey will increasingly determine competitive advantage in many industries. This article explores how companies with advanced data and analytics capabilities are remaking the customer experience.
Featured Articles on AI
Researchers Build AI That Builds AI (Quanta)
Interesting Quanta article on how researchers are using hypernetworks to preemptively fine-tune artificial neural networks, saving some of the time and expense of training.
Entertaining Articles Featuring Analytics
AI Outraces Human Champs at the Video Game Gran Turismo (Scientific American)
Interesting Scientific American article on how Sony AI researchers have created an artificial intelligence program that outpaces human competitors at the ultra-realistic racing game Gran Turismo Sport. The findings could point self-driving car researchers toward new ways to make this technology function in the real world.
The Best NHL Teams Are Better Than Usual. So Are the Teams That Might Upset Them In The Playoffs (FiveThirtyEight)
The NHL playoffs are a little more than 2 months away, and the #data and #analytics indicate that the depth of this year's contender field may result in more upsets than usual come playoff time. Interesting #SportsAnalytics from FiveThirtyEight.
Our Guide to The Super Bowl No One Saw Coming (FiveThirtyEight)
This is a great, data-driven overview (written pre-Super Bowl) of why the Rams were favored and how the Bengals could pull off an upset in this year's big game.
Europe's Most Competitive Football League — A Data Scientist's Answer (Toward Data Science)
This is an interesting analysis of why the German Bundesliga is the most competitive soccer league in Europe.
How A.I. Conquered Poker (New York Times)
This interesting NY Time article explores how low cost ($249) AI software is transforming how online, casino, and $1M+ high-stakes poker games are played.
About IIA
IIA is the industry's leading source of insights and advisory services for companies transitioning to data-driven decision-making and advanced analytics. IIA continuously seeks out insights, information and experts to elevate our client's and our community's analytics expertise through two service lines. IIA's Research and Advisory Network (RAN) provides clients with access to the world's largest analytics-focused expert network; a resource designed to accelerate analytics teams' progress against their projects and initiatives. IIA's Analytics Leadership Consortium is a closed network of analytics executives from diverse industries who meet to share and discuss best practices, as well as discover and develop analytics innovation, all for the purpose of improving the business impact of analytics at their firms. IIA's family of analytics assessments provide actionable, diagnostic insights for organizations looking to maximize their analytics performance.