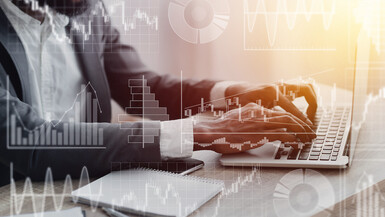 Read below for a roundup of interesting sites, resources, and articles from around the web, curated and contextualized by unbiased analytics experts at IIA. Highlights include articles on building organizations to support data and analytics products, successfully deploying MLOps, a review of the best use cases for IoT, and a roundup of machine learning algorithms. There are also a couple of good articles on how mid-sized businesses can leverage analytics and drive successful digital transformation strategies.

Follow us on Twitter (@iianalytics) and LinkedIn to receive daily updates on IIA content and curated content as it becomes available.
Featured Article from Analytics Leadership Consortium Newsletter
Each month, IIA's Analytics Leadership Consortium (ALC) publishes a newsletter featuring reviews of timely and relevant third-party articles. Here is one of the articles highlighted in a previous newsletter.

All Machine Learning Algorithms You Should Know In 2021
IIA's article summary:
This article is a nice round up of some of the more common machine learning algorithms about which data scientists should be aware; the author shares 12 different examples ranging from linear regression to AdaBoost to CatBoost. All of the algorithms listed include a brief summary and many also have a visualization to aid in the description. View the full article here.
IIA Recommends:
Share this article with your team and determine if there are additional algorithms that should be included. If so, what are they and how would your team define them?
If you are embarking on a data literacy program, this article would be a helpful document to share with business partners. To build on the article, describe different business use cases that map to the algorithms cited, make the content relatable to the individual.
This might be a nice reference piece to use during the interview process; ask a candidate to briefly describe a couple of the algorithms listed in this article to gauge their understanding and brevity.
​​Featured Articles on Analytics Strategy
Data Product Strategy for the Enterprise (Medium)
We see many enterprises moving to a data and analytics product approach. This article outlines how a data products strategy could be implemented within a company and the technical, organizational, and cultural challenges that may need to be addressed.
Building an Organizational Approach to Responsible AI (MIT Sloan Management Review)
To engineer a successful digital transformation with AI, companies must embrace a new approach to the responsible use of the technology. This article outlines three principles for responsible AI and suggestions for making it happen.
AI Adoption Skyrocketed Over the Last 18 Months (Harvard Business Review)
Digital innovation, accelerated by Covid-19, has put AI and analytics at the center of business operations by boosting productivity, delivering new products and services, and addressing supply chain issues. This article summarizes lessons learned from the pandemic and how they can be applied to spurring new economic opportunity.
The 5 Fronts of Digital Transformation in the Middle Market (Harvard Business Review)
Middle-market companies with a digital vision that is clear, comprehensive, and guides strategic decisions grow 75% faster on average than less digitally sophisticated peers. This article presents a five component framework to help guide middle-market companies in the process of digital transformation.
Automating Data Analysis Is a Must for Midsize Businesses (Harvard Business Review)
The data in midsized companies tends to be messy and difficult to integrate. Poor data quality can sabotage analytics and AI initiatives. This article explores three lessons for leaders to consider when getting started with automating data analysis: 1) Prioritize clean up; 2) Hire the right people; 3) Prepare the data.
Why Data is the New Uranium (eWeek)
The overused phrase "data is the new oil" tries to communicate the value of data. This eWeek article argues that the inherent characteristics of data render it much closer to Uranium - extremely powerful, but with potentially dangerous characteristics.
If Data Was a Football Team (Forbes)
Any successful team (data or football) requires a balance between the right people and skills, experience and training. Teams also need to work together to overcome challenges and advance outcomes. To create successful data products, you need strong teams that each bring something specific to the effort.
Featured Articles on Analytics Leadership and Talent
How To Identify A Clever Data Scientist In 7 Minutes Or Less (Toward Data Science)
This is a great outline of the characteristics that distinguish a smart and clever data scientist including: 1.) they tell engaging stories; 2.) they don't neglect impact; 3.) they actually listen; and 4.) they ask the right questions.
Featured Articles on Data and Analytics Technology
MLOps and DevOps: Why Data Makes It Different (O'Reilly Radar)
This is a great #MLOps overview including the layers of a modern ML infrastructure and how to evaluate some of the emerging frameworks like Metaflow and Kuberflow.
The Four Pillars of Data Observability (Toward Data Science)
Good article covering the four pillars of data observability (metrics, metadata, lineage and logs) and how they can help data and analytics teams increase visibility into their systems over time.
Featured Articles with Analytics Uses and Case Studies
4 Vital Tips for Choosing a Business Use Case for Data Science (Toward Data Science)
Only 20% of data science projects deliver positive business outcomes. This article outlines five common reasons why they fail (poor pre-assessment, asking the wrong questions, no clear business purpose, data issues, and low stakeholder engagement) and four tips for success (start with evaluation, focus on key business questions, specify, and secure the necessary data, and start small to grow over time).
IoT's Best Use Cases (InformationWeek)
Many organizations have been experimenting with IoT. This InformationWeek article provides a good overview of some of the most successful applications of this technology including: 1.) Fleet management; 2.) Smart city public transportation; and 3.) Drone operations.
5 Ways AI Can Improve Hiring for Both Employers and Candidates (eWeek)
Every organization is struggling to find good talent. This eWeek article explores five ways AI can improve the hiring process including: 1.) Enhanced efficiency in a remote environment; 2.) Deeper recruiting team insights; 3.) Improved communication; 4.) Removing inherent bias; and 5.) Increased efficiency.
Big Data, Questionable Benefits and My Girlfriend's Magic Ring (Scientific American)
Interesting opinion piece on wearable devices that track our health and whether they may do more harm than good.
How to Choose the Right Colors for Data Visualizations (Toward Data Science)
The colors of any data visualization will have a non-negligible impact on the audience. This article outlines three key elements successful data visualizations: 1.) Make colors meaningful; 2.) Make colors consistent; and 3.) Make colors accessible.
Featured Articles on AI
Seven Ways Artificial Intelligence Could Evolve (Silicon Angle)
Seven ways artificial intelligence could evolve including augmented intelligence, generative AI, composite AI, steroid AI, and Autonomous AI.
4 Things VCs Get Wrong About AI (VentureBeat)
The lessons VC's learned from their SaaS investments are not applicable to the world of artificial intelligence. This article outlines four lessons that apply to any AI initiative including: 1.) ARR growth is not the best indicator of long-term success; 2.) A minimal viable product isn't the way to test the market; 3.) Successful AI pilots don't always mean successful real-world outcomes; and 4.) Signing up customers for long-term contracts isn't a good indicator the vendor's AI works.
AI's Smarts Now Come with a Big Price Tag (Wired)
Good article on how the costs of leveraging the latest AI technologies are rising rapidly and therefore beginning to limit the ability to leverage these technologies.
Picking an Explainability Technique (Toward Data Science)
This article outlines a useful ML explainability taxonomy with four dimensions: 1.) Explanation scope - what is the scope of the explanation and what output are we trying to explain? 2.) Inputs - what inputs is our explanation method using? 3.) Access - what model and data access does the explanation method have? and 4.) Stage - to what stage of the model do we apply our explanations?
Featured Articles on Sports and Gaming Analytics
2021 NFL Analytics Survey: Most and Least Analytically Inclined Teams (ESPN)
How good is your favorite NFL football at leveraging analytics? Find out in the latest ESPN survey.
NFL Big Data Bowl (NFL)
Submissions for the 4th annual Big Data Bowl are due on January 6,2022. The theme of the 2021-22 Big Data Bowl is to devise innovative approaches to analyzing special teams in the NFL.
AI's Disruption of The Strategy Gaming Space Proves That Machines Are Getting Smarter (Forbes)
This article provides an interesting overview of the growing sophistication of AI players in strategy games like chess, Scrabble, GO and Poker and the potential impact for other AI uses.
About IIA
IIA is the industry's leading source of insights and advisory services for companies transitioning to data-driven decision-making and advanced analytics. IIA continuously seeks out insights, information and experts to elevate our client's and our community's analytics expertise through two service lines. IIA's Research and Advisory Network (RAN) provides clients with access to the world's largest analytics-focused expert network; a resource designed to accelerate analytics teams' progress against their projects and initiatives. IIA's Analytics Leadership Consortium is a closed network of analytics executives from diverse industries who meet to share and discuss best practices, as well as discover and develop analytics innovation, all for the purpose of improving the business impact of analytics at their firms. IIA's family of analytics assessments provide actionable, diagnostic insights for organizations looking to maximize their analytics performance.