Guiding Your Analytics Journey
Enterprises today are navigating the long and challenging journey of adopting and operationalizing advanced analytics and becoming truly data-driven. Analytics organizations must undertake their own journey to enable the enterprise's success. They need to build stronger teams, develop more confident leadership, drive better outcomes and have a bigger impact on enterprise decisions.

Don't make the journey alone. IIA's Advisory Services accelerate your analytics capability with information, advice and expertise. IIA serves as your organization's trusted guide, taking the journey with you and helping you chart the right course.
Download the Advisory brochure
Leverage Outside Help While Retaining Control
IIA believes that analytics organizations are most successful when they retain control of their core strategies, capabilities and delivery activities. Outsourcing those might get things done in the short term, but it can jeopardize long-term alignment, adoption and value. As a result, IIA doesn't provide staff augmentation, project execution support or long-term consulting.
Instead, our Advisory Services focus on being there when you need us to help work through tough issues and make important decisions confidently. We serve as a trusted guide, walking the path alongside your organization and helping you chart the right course. However, it is still up to you to make the journey. Like mountaineering guides, IIA advisory professionals can lead analytics teams through difficulties along the route, but the mountaineering team must do its own climbing
IIA Checkpoints: Supporting Common Challenges on the Analytics Journey
IIA understands the recurring cycle and common barriers that successful analytics organizations face. The path to improved analytics capabilities, strategies and value requires addressing a range of typical activities that analytics organizations must navigate each year. We call these recurring activities Checkpoints.

Successfully tackling these activities requires a concerted effort. Although each organization will have its own priorities and politics, highly consistent questions need to be asked and information needs to be gathered to successfully navigate past any Checkpoint. IIA helps clients simplify the process through a standardized approach that uses proven industry practices.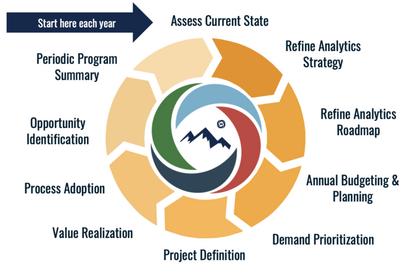 What Are IIA Checkpoints?
IIA Checkpoints are a portfolio of interactive workshops targeting recurring decision points within an enterprise analytics program.
How The Checkpoint Process Works
---
Learn More About IIA's Advisory Services
"It is difficult to achieve aggressive analytics goals without taking advantage of outside perspectives."
To find out more about IIA's Advisory Services or to schedule a consultation, please contact us here or email sales@iianalytics.com.