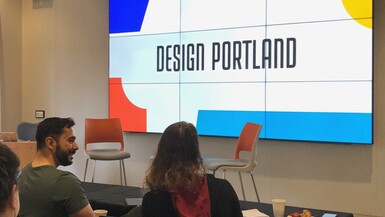 First you might be thinking, why the heck is the International Institute for Analytics writing about Design Week? It doesn't sound like it's related to analytics, AI, machine learning, or data at all... BUT it is! It so is! This event covers all aspects of design, community, society, art, and business. And what we are building in the analytics industry relies on all of those aspects and is affected by all of them as well
Over the course of five days the IIA team attended a wide variety of events. Everything from city planning to fashion was attended, all with the perspective of analytics.
In the session, Design for Affordability, Resiliency + Sustainability, PDX Main Streets shared what the challenges they face are and what they are doing to build solutions. When it comes to changing a city, working towards building affordable housing that is sustainable and fits into the health of the city, a lot goes into it. A large part of making housing sustainable and affordable is designing it to be as energy efficient as possible. The designers and contractors use data models to predict how changes in materials will impact the energy efficiency of a building and the utility costs associated with it. Utility costs are an additional monthly fee that can drastically change the affordability of a dwelling and the health of the home. The contractors rely heavily on the models to help them make key decisions throughout the entire building process
Being agile in the process is not only a key factor for building but for ecommerce as well. In the Work & Co session, 1,000 Little Tweaks: Prototyping Early to Create Great Digital Products, the workshop shared the value and importance of building and adjusting as quickly as possible. We all want to put out the perfect project the first time but the value of ideation and data in the process can help us get to a better version quicker. The workshop took teams into short labs to build out products then took them through an ideation process where other teams asked hard questions to push to finding better designs. Creating that forum to safely and quickly present allowed for major adjustments and changes to happen much earlier in the process. When building models, this is something we should all take into practice.
Particle Design hosted Humans, AI & The Future of Transportation in their beautiful east Portland location. During this session AI designers from Hyperloop One and Waymo shared insights on the goals of autonomous vehicles, the way analytics is playing into the design and what they are doing to attempt to prevent bias in the technology. This is a topic everyone in the analytics industry to talking about and a conversation we need to continue to have.
The best thing about Design Week is it encapsulates Portland's true essence; a community of people who are trying to make the right changes in our everyday life through honesty and beauty. People who are asking not only can we do, but should we. It brings people into conversations that we are having everyday around the ethics and moral implications of what we are doing in the analytics industry. All in all, Design Week Portland taught us a lot, and we were thankful to be a part of it.
Interested in seeing more of our thoughts on the events? We posted live updates on our Twitter, check it out @iianalytics.