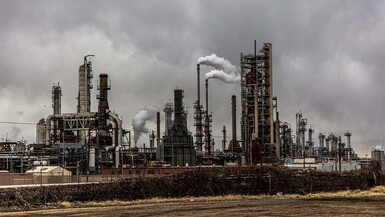 Understanding How Oil & Gas Companies Can Leverage Data as One of Its Most Valuable Commodities.
The Oil & Gas Industry (O&G) is fundamentally based on the ability to explore, locate, and extract valuable assets from the ground. In the earliest days of exploring oil fields, wildcatters became wealthy overnight and took power positions in the industry by capitalizing on a critical skill and ability – to relentlessly pursue and explore new sources of oil faster than competing rivals and to stake claim to that oil for turning oil into liquid wealth.

Like crude oil, data in its many streams of operational, financial, marketing, environmental, and geological information can be turned from raw, unprocessed facts into a new form of business insights that generate corporate wealth. These business insights can flow through all parts of the organization to give its leadership and key decision-makers the ability to generate new ways to create wealth and to thrive in a rapidly evolving industry with intense market and competitive pressures.
Much like the upstream processes for capturing raw crude and refining it into many different products and uses, advanced analytics capabilities can be applied to refine raw corporate data into valuable business insights and help companies improve and expand its wealth-generating sources of energy.
Analytics in Practice – Use Cases & Techniques
There are three primary stages to classify O&G activities: Upstream, Midstream, and Downstream. Each stage presents unique challenges and opportunities and the impact that data and analytics plays in each stage is considerable. In this post, we will provide some foundational information, briefly define the three stages, and touch on some of the analytics use cases and techniques that are being deployed to maximize the return on drilling sites and equipment, enhance logistics, as well as measures taken to ensure the safety of workers and adherence to operational protocols. The savings opportunities in O&G are significant and the stakes have never been higher as companies face mounting pressure and are under tight scrutiny to meet carbon emission goals, address environmental concerns, and prepare for reduced consumption. The objective of this piece is to provide some foundational knowledge and provide some insight into a highly complex and dynamic industry.
Upstream refers to the process of "extracting oil and natural gas from the ground" which includes exploring and detecting potential drill sites in a field; Exploration & Production (E&P) companies sit in this stage of the O&G lifecycle. In 2019, Rystad Energy revealed results from a research report that estimated "as much as $100 billion can be eliminated from E&P upstream budgets through automation and digitalization initiatives in the 2020s." The findings also disclosed that in 2018, "$1 trillion was spent on operational expenditures, wells, facilities and subsea capital expenditures across more than 3,000 companies in the upstream space… around 10% of this spend can be erased through more efficient and productive operations thanks to automation and digitalization." When it comes to data and analytics, some of the key Upstream activities include:


Collecting and analyzing seismic data via sensors, IoT, and satellite imagery; for example, the Rystad Energy report noted that the "digital systems of an offshore platform can have around 5,000 to 15,000 sensors" and in Egypt, The Egyptian Ministry of Petroleum and Schlumberger have recently created a massive digitalization project called the Egypt Upstream Gateway which includes "100 years' worth of accumulated national onshore and offshore seismic, non-seismic, well log, production and additional subsurface data under a single platform."
Monitoring asset performance and building predictive models to determine when/if to expect machine failure to avoid costly downtime (and be better prepared for downtime and staffing) is critical in all three stages; this Shell case study highlights some of the work the Data Science Center of Excellence has conducted to better manage the purchasing and inventory of parts as well.
Maintaining operational efficiency while managing reservoirs can be accomplished by enabling real-time reporting and analysis to capitalize on opportunities, mitigate risk, and better inform forecasting.
The Midstream stage occurs after the product has been extricated from the ground and this stage encompasses any activity "required to transport and store crude oil and natural gas before they are refined and processed." Transportation can include pipelines, shipping, or railways. Below are some examples of data and analytics activities that are occurring during this stage:
When thinking about terminal operations and managing pipelines, being able to look at a single view of a pipeline system where you can see things broadly like the location of tanks for terminals, pump stations, which pipelines are functioning or not, down to monitoring pressure control is incredibly important to uncover insights in an extremely complex environment. This webinar featuring Embridge Liquids provides an interesting presentation on the technology it is using to improve performance at its terminals and increase the use and understanding of data among its operators.
One of the activities associated with the midstream stage is pipeline routing which entails planning and scoping the best path to move product from upstream to downstream. Least-cost path analysis is used in many types of infrastructure planning and "is a distance analysis tool within GIS that uses the least cost path or the path between two locations that costs the least to those travelling along it to determine the most cost-effective route between a source and destination. Cost can be a function of time, distance or other criteria that is defined by the user."
In addition to the routing analysis and planning, the integrity of a pipeline is extremely important, so predictive analytics are performed to spot potential issues and mitigate risk. One of the challenges operators face is wrangling data from all of the disparate sources and being able make sense of it all: "data sources for pipeline integrity would include data from inline inspection or smart 'pigging' systems, data from enterprise asset management systems on repairs, leak detection systems, as well as data from SCADA, metering, and instrumentation."


Downstream is the final stage of the O&G cycle and it's when the "resources are converted into the fuels and finished products." Beyond different types of fuels that are produced in this stage, O&G byproducts can include any number of items including plastics, paints, dyes, preservatives, medical equipment, etc.


Like the other two stages, asset performance analytics play a critical role in the Downstream activities specifically at upgraders and refineries. Predictive analytic methods and prognostic analytics can help prevent unexpected outages, maximize production schedules, reduce impact on the environment, and mitigate risk.
Although this is an older example and comes from 2015, Shell was the "first company in the lubricants sector to launch an artificial intelligence-driven service for customers - Shell Virtual Assistant. It is an interactive one-stop shop on the Shell website where customers and distributors can ask common lubricant-related questions, available 24 hours a day, seven days a week."
Finally, when it comes to understanding consumption trends, a futures market forecasting model can be built for operators to be better prepared: "The model has two main big steps: First is relationship investigation, and second is prediction improvement. To investigate relationship between Google trends and oil consumption, cointegration test and a Granger analysis were carried out. Then in both statistical and artificial intelligence (AI) model, the selected Google trends were applied to improve the assumption of oil utilization."
Risk and Threat Mitigation – Cybersecurity
As cybersecurity has become more pervasive and a higher-level threat, the associated business risks have elevated to impact entire industries and countries. Cybersecurity has at times taken center stage as a geopolitical issue and raised more serious questions about how corporations, industries, nations, and government agencies need to work together in a collaborative manner.
In the early stages of cybersecurity, the response to a cyberattack was largely tactical in nature; to contain, eradicate and restore integrity of the systems affected. In more recent years, a tactical response is too limited and must be coupled with both short-term and long-term overarching business, technology, and policy strategies particularly in the Oil & Gas industries.
The recent attack on the Colonial Pipeline not only affected the innerworkings of the organization's IT systems, but it also crippled its ability to conduct its operations and resulted in immediate negative impacts to residents across several states in the mid-Atlantic and Southern region of the United States. Upon further investigation of the vulnerabilities that led to the attack and compromising of Colonial Pipeline's IT infrastructure, Reuters reported that hackers accessed their systems through an older VPN (Virtual Private Network) system with single sign-on authentication.
Difficulties from the attack included restoring older systems from offline backups and general compromises to the enterprise network as a whole; additionally, the company was put in the extremely challenging position of weighing the cost of the ransom against the potential lost revenue and customer impacts. The halt in operations and downstream flow of fuel to the pump also caused a widespread rise of gas prices and major outages at gas stations across multiple states. As in previous cyberattacks against companies who hold customer data including credit card information, consumers are often caught up in the impacts of what was primarily intended as an attack against the company or organization.


In the case of the Colonial Pipeline attack, consumers continue to be affected on the East Coast. The rise in gas prices have yet to return to pre-hack levels. According to US Energy Information Administration statistics, the price of regular gasoline in the state of North Carolina was at $1.896 per gallon in March of 2021 and more than one month following the May 6, 2021 cyberattack, the price of regular gas has increased nearly 1 dollar per gallon in just a matter of weeks to an average of $2.84 (source: AAA)
As Oil & Gas companies conduct technology infrastructure and IT security planning and investments, the potential risks and impacts of these vulnerabilities are now at the forefront of decision-making in what type of investments and how much to invest to limit and prevent such attacks. According to the Journal of Petroleum Technology (JPT), "Cybersecurity is crucial for every function within the oil and gas supply chain. It is important to pay attention to the data flow to protect the data and facilities, while developing capabilities to deal with intrusions. This is the essence of cybersecurity and operational leadership... During development drilling and completion activities, information security is useful for validating data to prevent human error and optimize environmental management, for example by preventing a well blowout by using accurate pore pressure data obtained through measurement-while-drilling systems."
Given the background on cyber-related issues and nefarious activity, it is surprising that February 2020 was the first documented attack on a US pipeline which occurred when hackers sent a malicious email. E&E News reported that while the facility never lost control of the operations, there were significant disruptions and the "operators of the facility chose to shut down a 'pipeline asset' for two days, 'resulting in a loss of productivity and revenue.'"
Cybersecurity analytics will continue to play a crucial role in operations and it's critical to not underestimate the importance of investing in IT infrastructure, anti-cyber-attack processes, protocols, as well as IT staff skills and knowledge. Analytics capabilities intended to reduce cyberattack risks include Threat Intelligence, Real-time Monitoring, Advanced Analytics and Advanced Threat Detection. GlobalData's latest thematic report, 'Cybersecurity in Oil & Gas (2020)' illustrates the importance of cybersecurity technologies in the industry, in order to protect oil and gas assets against internal as well as external threats."
Conclusion
As with every major industry, implementing data and analytics initiatives into day-to-day operations and making it a central part of your organization's strategy can bring tremendous value and uncover new opportunities. The Oil & Gas industry is ripe with opportunity at every major production phase whether it's utilizing cutting edge techniques to identify potential drill sites more efficiently and effectively in upstream activities or maximizing the output of various machinery with asset performance analytics in every stage or using advanced modeling to predict consumption behavior and trends in the downstream phase. The examples provided in this post are just a sampling of some of the work taking place and hopefully provide some inspiration on what's possible and where the industry is headed.
When it comes to reducing risk from cyberattacks, real-time monitoring is essential because early detection and an immediate counter response to a cyberattack strongly increases the probability to stop the breach before it is successful. Real-time monitoring combined with Advanced Threat Detection Analytics enables IT organizations to preemptively detect any questionable or potentially malicious activity across any point of the enterprise network, IoT nodes, systems, and applications. Analytics can be enabled as part of the first line of defense for Oil & Gas companies in protecting their assets.
Authors
Lise Massey is the Senior Program Director for IIA's Analytics Leadership Consortium (ALC) and has been with IIA since 2014. The ALC is a closed network of senior analytics executives from diverse industries who meet to share and discuss best practices, as well as discover and develop analytics innovation, all for the purpose of improving the business impact of analytics at their firms. Prior to IIA, Lise spent over 10 years designing, managing, and leading media analytics programs for a diverse portfolio of clients and has experience in many aspects of program and project management, account management, strategic and tactical planning, business development, and training. Lise is a graduate from the University of Oregon.
Emilie D. Van Poucke is an IIA guest contributor and is part of Accenture's Corporate IT organization, CIO. Emilie has been part of the consulting industry since receiving her MBA and has worked across multiple industries including Oil & Gas, Chemicals, Utilities, and Natural Resources. Ms. Van Poucke has served in several areas of Accenture including its Technology, Global SAP Practice and Strategy business groups. Ms. Van Poucke's key accomplishments include successfully leading global systems implementations and business solutions for Accenture and its clients. Ms. Van Poucke's areas of specialization include Analytics, Business Insights, Cloud, Living Systems, Data Intelligence and Data Governance. Ms. Van Poucke has 20 years of experience in business management and the consulting industry. She resides in North Carolina.