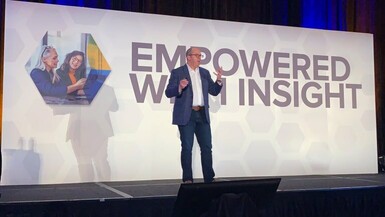 SEATTLE—HR professionals play a critical role in getting their organizations to use data and analytics strategically to compete more effectively.
Jack Phillips, CEO and co-founder of the Portland, Ore.-based International Institute for Analytics, a research and benchmarking services firm for the analytics industry, urged attendees at the Society for Human Resource Management People Analytics conference on Jan. 14 to get focused on data.
"It's proven that the use of data analytics improves overall company performance," he said. "Organizations invest in many things, but budget dedicated to data and analytics is limited. It needs to be a top priority. The broad use of data and analytics will differentiate the companies [from those] that eventually are disrupted and disappear from the survivors."
And HR is key to the success of winning with data, from sourcing the necessary talent and applying analytics to HR functions to leading change management when adopting a data-driven mindset across the organization.
Implementing the technology is the easy part, Phillips said. Getting your workforce to truly adopt data analytics across the organization is harder. Ultimately HR is responsible for managing that transformational change.
[SHRM members-only platform: SHRM Connect]
Data Analytics Overview
The data analytics market is in full growth mode, accelerated by the explosion of cloud computing. The technology environment is moving so quickly that it is very hard to keep track of the increasing array and complexity of analytics technology available, Phillips said. But the top-performing companies are investing heavily in data analytics.
"If you are not paying attention through expenditure and [acquisition of] talent you will be behind," he said.
Phillips outlined a maturity model showing the sophistication levels of an organization's approach to analytics. Employers aiming to improve their data analytics function first need to assess where they currently are. Phillips' model includes those at the bottom stages who don't use any data to make business decisions and companies where data analytics may exist in silos without a structure for collaborating across business units.
Most employers likely exist in one of these stages, while many enterprise-level organizations are in the higher aspirational stages where the value of analytics is expressed, or they are data-oriented and use analytics with some internal coordination.
"Only one company we've studied [Amazon] has achieved near perfection as a data-driven company," Phillips said. "You don't come to a meeting without data [at Amazon]. No gut-based decision-making is allowed. Everything is driven by data."
Succeeding with Data
According to Phillips, the key ingredients needed to achieve higher levels of maturity as a data-driven organization include:
People with data analytics skills.

Organizational structure, processes and technologies in place for those people.

Use of the data. "The highest performing companies have superior capabilities on the supply side and business leaders who use the insights that the data analytics teams are providing to drive the business forward," he said.
Another model he presented breaks down the elements that must be in alignment for companies to succeed with their analytics initiatives. "Without alignment, organizations run the risk of poor or limited results," he said. "To make real progress and become a data-driven organization, the capabilities and assets of these five elements must evolve and mature." The five elements are:
Data. It may seem obvious, but to provide meaningful analytics, data must be high quality, organized, reliable, integrated, and accessible. The raw material must be right.
Coordination. Companies must advocate a single and consistent perspective for analytics across the organization.
Leadership. Senior leadership should fully embrace analytics and lead company culture toward data-driven decision-making.
Targets. The organization should prioritize business targets against which it will apply its analytics. "Data and analytics without a targeted reason for it is worthless," he said.
Talent. Organizations require analytical talent that covers a range of skills from accomplished data scientists to rank-and-file employees who embrace being more analytical in how they do their job.
Employers must also understand rapidly emerging analytical techniques and technologies, Phillips said. The widespread adoption of open source tools has resulted in an explosion of analytical methods and techniques, and with the advent of big data, machine learning and cloud computing, creating an effective technology strategy for analytics is a critical ingredient for success.
HR's Role
Human resource professionals play an important part in getting their organizations up to speed and competitive with analytics, including sourcing the right qualified talent—a difficult task in a labor market lacking the requisite skills—and investing in data analytics for its own functions.
"HR lags behind other business functions when it comes to using data analytics," Phillips said. "Sales, marketing and finance tend to outpace other parts of the business."
HR should be assertive with leadership when advising on budget and staffing for data analytics positions and in creating and managing a workplace culture that values innovation.
"The top performing companies treat their data analytics function as a product, with design thinking and intentional product management," Phillips said.
One positive for employers who may be overwhelmed by implementing a data analytics function is that best practices are easily transferable. "There are many things that you can just copy," he said.
Original article sourced from SHRM and written by Roy Maurer.
Follow IIA on LinkedIn, Twitter and Facebook for more updates.