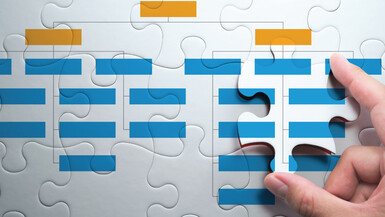 How many analytics organizations can quickly identify the top five capabilities they are actively building to prepare for their business needs 3-5 years from now? Perhaps not many. Many leaders are able to identify what analytics capabilities they are building right now, just trying to survive the current demands. But major initiatives and fighting fires leaves little time for strategically preparing for the workforce of the future. However, it is critical as a leader that time be set aside for thinking and planning about the workforce of the future.

Strategic Workforce Planning is all about identifying at a high-level what roles—and more importantly what capabilities—are needed from the workforce to accomplish the business' long-term, strategic goals. It's about identifying how the workforce will need to shift their capabilities (their ability to perform and what they can deliver back to the organization) in ways no other department is able to do.
There are two approaches that can be taken.
Look at the current state and anticipate the next evolution of skills and abilities; or
Look at the 5-year strategic plan and analytics trends and ask, "What will be needed in order to make that happen?"
Both methods can be effective, but they do take completely different approaches to identify where the company needs to head when it comes to analytics capabilities. IIA has several resources to help assess current capabilities and skills, from the "Skills Inventory Questionnaire" to the "Analytics Skills Inventory" to the "Constructing an Analytics Capability Roadmap." Many studies can also predict the skills needed in the future and can be used to generate ideas for future needs.
Capabilities Defined
Organizations use the term capability a lot. But what exactly is a capability? Capabilities include the skills, behaviors, and competencies in an organization, team, or individual. For example, an organization's strategic goals may indicate a need for an increase in machine learning skills and an increase in senior data scientists that can take initiative in solving problems without a lot of oversight (behavior). This will result in the team's ability to predict better results for the organization (competency).
A solid workforce plan should include strategies regarding the overall analytical competencies (what we want to accomplish) and a plan to accomplish it (through behaviors and skills).
Technical skills can include everything from data science and analytics methods to tools and technology proficiency.
Behavioral skills are often identified as needs throughout the organization, such as communication skills or presentation skills.
When developing this list of skills of the future, take a fresh look at what is unique about analytics or data science. Here is an example of some fundamental competencies and behaviors that can make a large impact on the effectiveness of an analytics team in the future beyond the development of technical skills and behaviors that are usually identified with today's demands.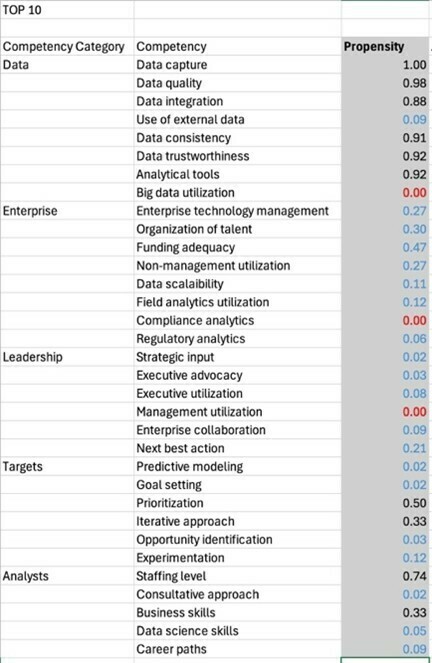 Once the capabilities are identified, those needs should be translated into:
Workforce Strategies
Roles
Priorities
Turning Capability Needs into Workforce Strategies
Once a capability is identified, a workforce strategy to build that capability can be developed. An example using the above model is shown below.
Behavior: Curiosity
A team that realizes that to achieve the organization's strategic goals, the data science team must make sure there is a priority on innovation. The behavior behind the innovation is curiosity.
A workforce strategy is then developed based on curiosity as a desired competency. This strategy includes specific paths and initiatives that can be implemented to develop the skills, behavior, and culture needed to increase curiosity, ultimately resulting in an increase in innovative analytics products.
Next, the analytics team must develop and increase this competency in critical members of the team and determine what is needed from all employees, regardless of role or level.
Strategic paths are identified, which include outlining expectations of how work is done; creating an "ask why" campaign; and reorganizing roles and reporting structures to allow and encourage time to be curious. In addition, formalized training and resources encourage creative thought.
Turning Capability Needs into Roles
Some capabilities will generate the need for new roles. Organizational design techniques can be used to group specific duties and skills into definite jobs/roles that are needed—everything from generalists to specialists. Thinking in terms of "we need to have the ability to…." can be very beneficial in identifying the main components that can be combined into jobs or roles.
In the world of analytics and data science, how roles are defined is constantly evolving as skill levels increase and technology advances. The job description of a data scientist from 10 year ago does not have the same expectations today. The definition and expectation of that role must evolve as the capabilities needed by the organization change.
For example, there was a time when the need for a specific role of a data engineer did not exist. However, with the increase of data sources, movement to the cloud, and increased demands on data scientists, many organizations identify the need to increase the skill sets of managing and organizing the data for analytics and ultimately create a new role to focus on it.
Turning Capability Needs into Priorities
Most leaders do not have difficulty identifying capability needs for the future. In fact, the list can get long fast. One of the biggest challenges is trimming down the list to be able to focus on what is most critical. Developing a priority of which capabilities will accelerate the others and which ones are critical to the mission is not an easy task, but it is essential to focus the organization.
To identify the magnitude of the change, use these questions as a guide:
How many analytics teams will be impacted by this change?
Is this a fundamental shift of capabilities or a need for a certain period of time due to a specific initiative?
Will the need for this capability or these new roles increase in multitudes (i.e., from 2 to 6 to 20) or by single digits?
There are many ways to think of capabilities. What matters most is that the analytics leaders of the organization make the effort to identify, assess, and plan analytics capabilities in a way that works best based on the culture and development structures that are already in place.