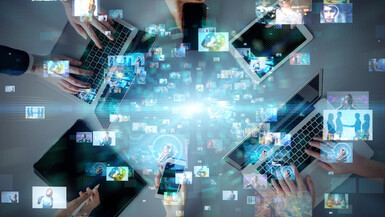 IIA is the industry's leading source of expertise for companies making the transition to data-driven decision making and advanced analytics. IIA partners with the world's leading companies to help them build successful and effective enterprise analytics programs.
Below is a quick roundup of the most popular downloads, webinars, blogs, podcasts, and curated articles from 2021 based on the number of content downloads, webinar registrations, website traffic, and social engagement.
Most Popular Resources
IIA provides insights, frameworks, and best practices derived from IIA's experience working directly with clients (see Resources). While eBooks are frequently available for free download, our clients have access to an extensive library of research briefs and access to the experts who author the research. Here are the most downloaded resources from 2021:
DELTA Plus Model and Five Stages of Analytics Maturity: A Primer
This research brief summarizes the key elements of DELTA Plus and five stages of analytics maturity frameworks and discusses how these two frameworks can be used to understand analytical maturity within your organization.
Analytics 4.0
The eBook explores the evolution of analytics from Analytics 1.0 (traditional analytics) to Analytics 4.0 (automated and embedded analytics), the point at which organizational culture allows for the embedding of finished-product advanced analytics into decision flows and operational business processes.
Dimensions of Data Driven Culture
This eBook provides an overview of IIA's Data-Driven Culture Framework, including descriptions of seven key dimensions for organizing, growing and maintaining a world-class data-driven culture.
Creating an Analytics Community of Practice
Besides establishing why you should consider a CoP, this eBook provides actionable insights on how to start a CoP within your organization.
Creating A Data Strategy
This eBook summarizes IIA's ten-step data strategy framework. The full research brief is available to IIA Research & Advisory Network (RAN) and Analytics Leadership Consortium (ALC) clients.
The Most Popular Webinars
IIA webinars feature in-depth presentations on topics that matter from IIA executives, experts, and thought leaders. Most webinar presenters are members of IIA's expert network and are available for one-on-one advisory conversations with clients of the Research and Advisory Network (RAN). Here are the most popular webinars from 2021:

How to Effectively Prioritize Analytics Projects
IIA Expert Kathleen Maley shares her proven approach to prioritizing analytics projects. This approach can enable firms to ensure that their analytics efforts are meeting the expectations of business leaders and empowering analytics teams, while reducing frustration across the enterprise.
Disciplined Self-Serve BI Enables Advanced Analytics
IIA and Metric Insights discuss IIA's framework for Self-Service BI and shares some of the ways to think about and implement a self-service BI strategy.
Modernizing the Roles in Your Data Science and Analytics and Data Science Organization
IIA Chief Analytics Officer Bill Franks discusses the trends driving the need to evolve your organization's talent model, new roles you need to consider implementing, and how they all fit together.
Architecting a Modern Analytics Tech Stack
IIA Expert Ken Sanford shares his deep experience, as well as some provocative and effective frameworks for making the best choices for your firm, informed by your needs, not by sales pitches and feverish hype.
Applying Data Governance 2.0: Best Practices to Business Intelligence Governance
The CEO of Metric Insights talks to IIA about the new approach to BI Data Governance, including driving effective BI Governance, leveraging BI Governance to engage users, developing a framework for BI Governance that connects enterprise strategy to critical daily action.

Most Popular Blogs
IIA's blog features timely, relevant perspectives from IIA leaders and experts based on our experience with clients and our unique market perspective. Here are the most popular blogs from 2021:
Results Are Not the Biggest Factor in Data Science Success
IIA's Bill Franks discussed why producing great results is necessary, but not sufficient to having your data science project viewed as a success.
Creating an Analytics Community of Practice
Lise Massey explores best practices for creating an effective and engaging analytics community of practice.
2021 IIA Retrospective: The World of Analytics Year in Review
As IIA prepared to share its annual 2022 Predictions and Priorities, we also took a look back at the biggest trends that IIA saw within our client base in 2021.
Don't Believe the Hype
Drew Smith shares insights and best practices for managing expectations for analytics and AI projects.

Most Popular Podcast Episodes
IIA's Leading Analytics podcast, now in its third season, features informative and engaging discussions with successful analytics executives from leading companies across a wide variety of industries and geographies. Here are the most popular podcast episodes from 2021 (or browse the range of episodes from all three seasons):
Cameron Davies – Yum! Brands
Cameron Davies, Chief Data Officer at Yum! Brands (LinkedIn), discusses his first year at Yum! Brands and lessons learned from a career that includes leadership roles at NBC Universal and The Walt Disney Company.
Bob Darin - CVS
Bob Darin, former Chief Data Officer and Chief Analytics Officer at CVS (LinkedIn), explores the changing healthcare landscape and how the recent CVS-Aetna merger is enabling new analytics solutions for patients and providers.
Yatish Uchil – BNY Mellon
Yatish Uchil, Co-Head of Data and Analytics Services at BNY Mellon (LinkedIn), discusses his experience in both business-facing and technology teams and his analytics career in financial services.

Helena Yin-Koeppll – Bayer
Helena Yin-Koeppl, Vice President and Global Head of Data Science and Advanced Analytics at Bayer (LinkedIn), discussed her role enabling advanced analytics, AI and machine learning to drive business outcomes across therapeutic markets.

Paul Ballew - Loblaw
Paul Ballew, former Chief Data and Analytics Officer at Loblaw (LinkedIn), the Canadian conglomerate with brands in food, health and wellness, fashion and beauty, and financial security, shares how he is helping Loblaw apply science to become a world-class analytical competitor.
Most Popular Curated Content
IIA reviews and curates hundreds of articles and resources for its community members and clients. This curated content is made available on IIA's social channels and its 'Best of the Month' blog series. Here are the most popular curated articles from 2021:
Data Documentation Woes? Here's a Framework (Toward Data Science)
Data documentation can yield great value, but it is difficult to institutionalize good practices. This article has some good insights on building a documentation-first culture.
Tired of AI? Let's talk about CI. (Toward Data Science)
AI has become a fuzzy buzzword for automated algorithms. Computational Intelligence covers three distinct areas (Neural Networks, Evolutionary Computation, and Fuzzy Systems), is more defined, and has real world applications. This article provides a great overview of the three CI areas.
Picking an Explainability Technique (Toward Data Science)
This article outlines a useful ML explainability taxonomy with four dimensions: 1.) Explanation scope - what is the scope of the explanation and what output are we trying to explain? 2.) Inputs - what inputs is our explanation method using? 3.) Access - what model and data access does the explanation method have? and 4.) Stage - to what stage of the model do we apply our explanations?
How to Make Agile Actually Work for Analytics (Toward Data Science)
Good article on how to apply "the spirit of agile" to analytics including four key guiding principles: 1) Decisions over dashboards; 2) Functional analysis over perfect outputs; 3) Sharing data over gatekeeping data; and 4) Individuals and interactions over processes and tools.

Next Steps
Follow us on LinkedIn and Twitter (@iianalytics) for daily updates on the latest IIA blogs, webinars, and podcasts plus curated analytics content from around the web and sign up for IIA's email newsletter to get the latest from IIA delivered right to your inbox.

If any of this content resonates with your analytics challenges or is applicable to your analytics projects and initiatives, get in touch to schedule some time to meet and explore how IIA can help.